Screensaver Maker - make you own screensaver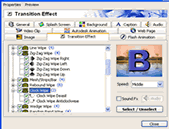 Screensaver Maker is a powerful and flexible authoring tool to compile, make screensavers and distribute screensavers that are compatible with Windows. It has a fully integrated workspace that permits you to work efficiently and make you own screen savers in minutes. Screensaver Maker can make you own screensaver based on state-of-the-art and multimedia file formats: images (BMP,JPG,PNG,GIF...), sounds (WAV, MP3, MIDI, RMI, WMA, OGG), movies video (AVI, MPEG, RM, MOV, WMV), animations (Flash SWF, Autodesk Animation) and webpages, etc.

The Screensaver Maker comes with an easy-to-use interface, that help you to build, preview and make your own screensaver without requiring any technical experience. No programming skills needed: just collect images, music, MP3, flash files etc and add them to your screensaver project with a point and click, You can make screensaver quickly and easily!



Download Trial 3.09 MB
Software Information
System Requirements
Version:
2.4.1200

Windows 98/ME/NT/2000/XP/Vista
Pentium II CPU
64 MB RAM

File Size:
3.09 MB
License:
Free to Try, $24.95 to buy
Rating :

What kind of ScreenSavers can I make?

Screensaver Maker help you make screensaver based on Image SlideShow (display your photos), Movie (AVI, Mpeg, WMV, Quick Time ...) and Shockwave Flash. Several options are available: More Files Support; MP3, WAV, MIDI, WMA etc. Background music support; Masking Effect support; Transition Effect support; Customizable screensaver Dialog box, sell your screensaver option, and much more...

Screensaver Maker Key Features:
Customize Individual Scene - adjust individual scene's properties (position, effect, caption, background, etc.) NEW.
Support Wallpaper Package - allow users to choose an image from the screensaver to display as wallpaper, and immediately apply it to their Desktop if desired.NEW
Make screensaver of your own with photos, animations (FLC), webpage, sound and movie (QuickTime, MOV, Mpeg, AVI...), Flash SWF, image Slide Show and other media.
Make single stand-alone screen saver file (.SCR)
Make single compressed self installing ScreenSaver setup file.
Support Bitmap splash screen
Several Background options (solid, gradient, bitmap, original screen...)
Project Preview before saving or building
Wallpaper Package - allow users to choose an image from the screensaver to display as wallpaper,and immediately apply it to their Desktop if desired.
Customize Individual Scene - adjust individual scene's properties (position, effect, caption, Background, etc.)
Define each scene's caption
Support drop shadow effect
Readme and License text can now be in Rich Text format. Rich Text files (.rtf) can be directly
Imported. Automatic URL recognition - Can check for a number of URL formats (for example, http:)
Easily collects media files using drag and drop from other programs
Choose font color, type, size, and effect for the global scene's captions
Project Save/Load - You can save and re-open your screen saver project. All settings are modifiable.
Advanced transition effects with over 100 combinations producing smooth transitions between
Images, meanwhile supporting sound fx effect
Screensaver Maker Media format Supported:
Quick Time® Movies (Qt, MOV) latest version 6.3 now supported
All latest MediaPlayer® formats (MPG, MPEG4, WMV, ASF, WMV...)
Macromedia Shockwave Flash® (SWF)
FLI/FLC animated
RealMedia® Movies (RAM, RM)
Web/Html formats (HTML, ASP, DHTML...)
Audio/Sound formats (MID, WAV, MP3, RMI,WMA)
Image formats: BMP (Windows), GIF (CompuServe), JPEG (JPEG), PSD (Photoshop), PNG (Portable Network Graphic), PCX (Zsoft), TGA (Targa), TIF (TIFF).
There are three editions of Screensaver Maker: Personal, Basic, and Professional. Please see below for features comparing chart.


Features comparison

Desktop

Standard

Profssional

Create Projectable Screen Saver only the Local

Yes

Yes

Yes

Distribution of Screen Saver

Create a stand-alone single screen saver file(.SCR) and Custom icon for the .SCR files
Create single compressed self-installing Screen Saver setup file. Automatic setup/uninstall and configuration directly into Windows Control Panel
Unlimited Royalty-Free Distribution - No hassles. No hidden costs. You can distribute an unlimited number of copies of the screen savers you create

Yes

Yes

Static or Live Preview Option
4 Internet links to images of the top of settings dialog box
4 Include Readme option to the settings dialog box

Yes

Yes

Installer Features:

Customize Installation Background
Customize Installation Appearance
Customize installer icon
Include User License Agreement option
Include Readme option
Include Start Menu Program Group feature
Include a Desktop Shortcut feature
Customize icon for .SCR files

Yes

Modify product ABOUT information for the settings dialog box

Yes

Selling Features

Unlockable/Try & Buy - Create unlockable 'Try & Buy' screen savers that convert into the full version when you provide the user with an unlock code. Use unique unlock codes for each user, or use one unlock code for all users. You can even include content (advertising, sales material, etc.) that disappears after a screen saver is unlocked
Include a Registration Code Generator tool

Yes
More Screenshots - Click each image to enlarge!