Savitar for Mac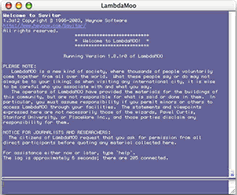 The Premier MUD / MUSH / MOO Client for the Macintosh!

Savitar is a software application designed to connect people using Macintosh computers to MUD / MUSH / MOO / MUVE servers. Savitar works as a "client" application which basically means it hooks your computer to one or more of these servers and allows you to interact with the people you find there.
Savitar is a Mac OS telnet application with features tailored for connecting to internet-based virtual worlds. Often referred to as "MUDs" (Multi-User Dungeons) or "MOOs" (Multiuser Object-Oriented).

When you download and launch Savitar for the first time, you will be presented with a dialog called the "World Picker" which will list some favorite MUVE worlds of Savitar's early users. Select one and press the "Connect" button and you'll be off exploring your first world in no time.

A lot of useful information about MUDs can be found at the MUD Connector website. MOO information can be found on MOO-Cows.com.


Download Trial 2.09 MB
Software Information
System Requirements
Version:
1.4.3

Power Macintoshes running Mac OS 9.2.2 or Mac OS X

File Size:
2.09 MB
License:
Free to try, $15.00 to buy
Screenshot:
View Screenshot
Rating:
Savitar Features:
MCP SimpleEdit support.
Option to use regular expressions in trigger matching.
Easy-to-User "World Picker" for first time log ins.
User selectable window foreground and background colors.
Supports ANSI escape sequence (color) output.
Supports send/receive of HTML style tags.
Supports per-world "autologin" commands.
Supports per-world input and output event triggers and variables.
Supports easy to use styling, coloring, gagging, and sound triggers.
Supports triggerable Mac OS speech output.
Supports ability to use wildcards in a trigger.
Triggers and worlds import/export with a mouse drag.
Provides 18 easy to program macro keys.
Supports dozens of user-definable macro hot keys and variables.
Variables are settable via wildcards.
Supports "auto-text" entry of variables during input.
All data is stored in easy-to-edit XML (eXtensiable Markup Language).
Can create, edit, and save text documents.
Internet Config aware.
Takes full advantage of Mac OS drag and drop.
Savitar is available for both OS 9 ("Classic") and OS X.
Has split screens, command line recall, multi-sessions, file upload, capture, and all that jazz too.
More Screenshots - Click each image to enlarge!