Fantasy Worlds: Rhynn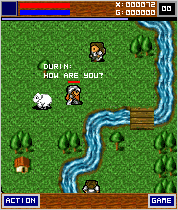 Fantasy Worlds: Rhynn is a real time Massive Multiplayer Online Role Playing Game (MMORPG) for mobile phones. After connecting to the Internet with the mobile phone, it is possible to interact with hundreds of players, controlled by other humans or AI.


The goal is to develop your virtual character by either solving quests, trading or fighting with other players.







Software Information
System Requirements
Version:
1.2

Mobile phone
Mobile network
User account (for free)

File Size:
104 KB
License:
Freeware
Key Features:
Hundreds of human players and bots in the same game world, all realtime.
Four different playable character types (human, orc, elf, dwarf) with individual attributes.
Individual and free character building through experience levels.
Chatting and trading with other players - both human and AI.
Fighting against other players or bots in realtime.
Dynamic downloading of and travelling between new game worlds.
Many different items that can be used or equipped.
Challenging quests.
NPC dialogues.
Mobile device:
Nokia N-Gage
Nokia N-Gage QD
Nokia 3600
Nokia 3620
Nokia 3650
Nokia 6260
Nokia 6600
Nokia 6620
Nokia 6630
Nokia 6670
Nokia 7610
Nokia 7650
Panasonic X 700
Sendo X
Siemens SX1