Rally Racers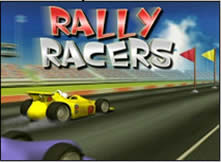 Rally Racers is a challenging arcade racing game. The object of this game is to capture as many flags as possible. Each road maze has ten flags you must capture before you can advance. Even if youre a racing game pro, this game will push your driving skills to the limit. Avoid the dangerous road hazards and the ever-present enemy cars. Be warned, the enemy cars will try anything to stop you!
Software Information
System Requirements
Genre:
Arcade

DirectX 7.0 or higher
Windows 8/7/XP/Vista
Processor 200 MHz or higher
512 MB RAM
10 MB free disk space
Sound card - optional

File Size:
5.92 MB
License:
Free to try, $19.95 to buy
Download:
Click to Download
More Screenshots - Click each image to enlarge!