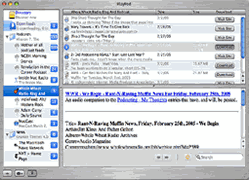 PlayPod

Looking for more sounds to feed the insatiable thirst of your iPod? Then get PlayPod and start browsing thousands of free radio shows, news shows and other podcasts.

PlayPod was designed exclusively for Mac OS X and contains a powerful download engine covered with a gorgeous Aqua interface. Keep your iPod contents dynamic with PlayPod.


Download Trial for Mac (1.09 MB)
Software Information
System Requirements
Version:
1.0b12
Mac:

·Any Macintosh with Mac OSX 10.3 or above

File Size:
1.09 MB
License:
Free to try, $16.99 to buy
Screenshot:
View Screenshot
Download:
Click to Download
Rating:
Key Features:
Integrates with iTunes.
After you download a file, you can have it move automatically to iTunes, set genres, playlists and convert to AAC bookmarkable files.
iPod.
Once a file is downloaded and in iTunes, sync with your iPod.
Aqua.
Written entirely in Cocoa with a beautiful, unobtrusive user interface.
Text-To-Speech.
Don't have time to read the news? Then use PlayPod's built in text-to-speech feature to convert your favorite blogs or news headlines to audio files. Have them automatically added to iTunes so you can listen to them on your iPod. We strongly recommend using voices by Cepstral.
Previews.
Checkout a podcast before downloading it with the built in previewer.
Directory.
New podcasts are springing up everywhere, use the built-in directory to find your interests.
Styles.
Customize how podcasts and news items are previewed. It comes with a few built in styles or use any style from NetNewsWire.
Scheduled Downloads.
Don't want to consume bandwidth during the day? Have PlayPod automatically download podcasts at a more convenient time.
.Mac Support.
Backup and restore your feeds to your .mac account.
Podcasts and News.
PlayPod also has a simple built-in RSS news reader/aggregator because podcast feeds come in a standard XML format. So you can use PlayPod to browse news items and podcasts!
---
What is Podcasting? Podcasting, created by former MTV VJ Adam Curry, is a term that was devised as a crisp way to describe the technology used to push audio content from websites down to consumers of that content, who typically listen to it on their iPod (hence the "pod") or other audio player that supports mp3 at their convenience. The term podcasting is meant to rhyme with broadcasting and is a derivative of the iPod platform. While not directly associated with Apple's iPod device or iTunes music service, the company did contribute both the desire and the technology for this capability. Podcasting is not unlike time-shifted video software and devices like TiVo, which let you watch what you want when you want by recording and storing video, except that podcasting is used for audio and is currently free of charge. Note, however, that this technology can be used to push any kind of file, including software updates, pictures, and videos.

Podcasting uses an XML-based technology called RSS, or Really Simple Syndication. Content publishers describe new content in an XML RSS file which includes dates, titles, descriptions, and links to MP3 files. This auto-generated file is called an RSS feed (from podcastalley.com).
RELATED iPod SOFTWARE DOWNLOADS