Picture Viewer Max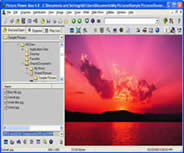 Picture Viewer Max is a Picture/Image Viewer and Editor that will Search your Computer for major Picture File Types. You can Display, Edit, Print, Organize, and Send Files. Sections of Pictures can be cut and pasted onto other pictures, plus you can add Text and Shapes to your pictures creating Greeting Cards that can be printed or sent over the Internet using E-Mail. Create HTML Pages. Batch Rename, Copy, and Conversion. Great Slide Show! Create great Logos!

The Microsoft Window Media Player Component is part of the program, so you can play audiovideo, and MP3 music files. Lists can be made of folders containing different types and categories of files that are quickly located with the click of a button. The program starting point is a Folder/File list that may be resized or hidden (Displayed by SpaceBar). Pictures are displayed just by clicking on the File Name. Using the menu Open File option will display a file, and is useful to open files over the network.

You can create HTML Pages from pictures in multiple folders. File operations as Move, Rename, Delete, and Save are available. You may convert between the major image file types. These file types are grouped by pictures, sounds, music and audiovideo files, and the file list is filtered by these types by clicking the five buttons at the bottom of the main window: Pictures, Sounds, Music Media, Movies, and Text.




Software Information
System Requirements
Version:
4.01

Windows 8/7/XP/Vista
Pentium II CPU
512 MB RAM

File Size:
5.92 MB
Screenshot:
View Screenshot
Rating :
Key Features of Picture Viewer Max :
Multimedia Viewer - Search for Major Multimedia File Types, Display, Edit, Print, Play, Send and Receive Files over the Internet.
Find and Display Pictures, Videos, Sounds, Music, Text Files, Documents, HTML, and System Files.
Picture Thumbnail Viewer where you set the size and resolution of the Thumbnail images.
Edit Picture/Image Files with techniques as Flip, Reverse, Rotate, Resize, Brightness, Contrast, Color Saturation, Gray Scale, Hue, and other special effects and filters.
Add 3-D Text and Geometric Shapes to Pictures and Images displayed in a Multiple Document Interface.
Cut and Paste sections of Pictures onto other pictures.
File Types supported are JPG, CMP, uncompressed TIF, TIFF, BMP, ICO, CUR, PCX, DCX, PCD, FPX, WMF, EMF, FAX, AWD, XPM, IFF, PBM, CUT, PSD, PNG, TGA, EPS, RAS, WPG, PCT, CLP, XWD, FLC, ANI, SGI, XBM, MAC, IMG, MSP, CAL, ICA, TXT, BAT, LST, WRI, SYS, RTF, HTM, HTML, ASP, DOC, PDF, AVI, AVI(DivX), MPG, MPEG, MOV, MP3, M3U, ASX, MID, RMI, ASP, MP2, AIFF, M1V, WMA, WMV etc.
Convert Picture File Formats between Picture File Types.
Create a Picture or Image from other Pictures with Text and Shapes, then send to friends through E-Mail over the internet.
Create Blank Picture Frames with color gradients for Logos or Picture Backgrounds.
Save a list of any number of Folders with your favorite Multimedia Files for quick location.
Find and play WAV, MID, RMI, AVI, MPG, MPEG, MOV, and MP3 files with Microsoft Media Player Component.
Print up to 8 Pictures on a page with Titles for page and each picture. Select your font and color for all printed text.
Send pictures over the internet with Picture Viewer Max by E-Mail, if you use a stand alone E-Mail Program as Outlook Express or Netscape Composer. Compresses Pictures and Multimedia into a Zip File.
Receive Pictures and Zip Files by E-Mail and view, edit, save, and print with Picture Viewer Max.
View Pictures or Multimedia on other computers accessible by the internet.
Capture your Computer Screen into a picture file.
Use Screen Capture to create JPG Files out of Web Pages on the Internet.
Great Slide Show with hundreds of Transitional Effects while playing selected MP3, MID, RMI or WAV files in the background.
Supports TWAIN supported Devices, Scanners, and Digital Cameras.
Batch Rename/Move for many pictures in multiple folders.
Batch Copy and Conversion for supported Files in multiple folders to other folders, devices, or over the Local Area Network.
Create HTML Pages for Pictures in a folder or multiple Folders that can be zipped for adding to your website.
Organize Pictures in Photo Albums with descriptions, and Multimedia Files in Play Lists.
Get a List of all Files of any Type throughout your entire disk.
Local Area Network Support.
Create Zip Files and unzip Zip Files.
Zoom in and out of Pictures using +/- keys.
Listen to Music while searching for Pictures or Editing Pictures.
Set your own colors to different types of windows and window components.
Complete Help Text with Quick Tips in the program for easy use.
New Main Window Interface with Tabbed Selections.
Multiple Picture Editing Undos.