PCS Network Tools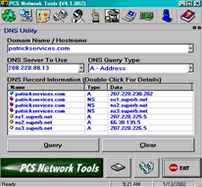 The PCS Network Tools is a collection of essential network diagnostic tools. These tools include DNS resolution which provides the IP Address, Hostname, Hostname Alias, Mailhost, and Name Server Records for an entered host. In addition, the following tools are also included: IP Scanner, Traceroute, Ping, Whois, Finger, Time, Quote of the Day, and extensive Localhost information. Local information includes the hostname, alias, IP address, MAC address, username, Primary Domain Controller, NetBIOS, memory, windows version and build, and other vital inforamtion. An easy-to-use toolbar allows quick switching between tools. To minimize typing, the Hostnames and IP Addresses entered in any tool are added to a history list that can be reused in any other tool in the suite. The output from all of the tools in the suite can be saved to a text file for printing, diagnosis, or future reference. An extensive help file is included that provides an overview of network diagnosis and fully documents each utility and its use. This utility provides all of the best network utilities in one easy-to-use and integrated suite!




Software Information
System Requirements
Version:
4.2.001

Windows 8/7/XP/Vista
Pentium processor

File Size:
1.16 MB
License:
Free to try, $24.99 to buy
Screenshot:
View Screenshot
Rating:
Key Features:
All network diagnostic tools in one convenient suite.
Provides DNS resolution to include IP Address, Hostname, Hostname Alias, Mailhost, and Name Server Records for a given host.
Ping to diagnose connections between hosts.
Whois to lookup domain registration information.
Traceroute to determine problems along the network path to a remote host.
Finger to see information about a remote user.
Port Scanner to look for open ports on remote machines.
IP Scanner to determine hostnames from a range of IP Addresses.
Time lookup and syncing utility.
Quote of the Day (QoD) lookup utility.
Extensive Localhost information.
Easy-to-use toolbar interface design.
Share entered hostnames and IP addresses between tools.
Includes a quick reuse hostname and IP Address history list.
Output from all tools can be saved to file.
Complete help file.