Parabens Screen Capture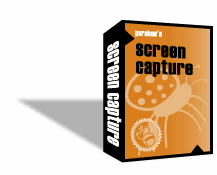 Have you ever been playing a game, visiting a site, or designing something and you hit Print Screen to capture the screen? With Paraben's Screen Captures, you have complete control.

Capture all or just a portion of the screen. Set a timer for captures. Capture many forms of multi-media including video and DVD. Once you've captured the screen, use a vast array of editing tools to get it just the way you like it. Then, save the screen capture as an image.






Software Information
System Requirements
Version:
4.31

Windows 98/ME/NT/2000/XP
Pentium II CPU
64 MB RAM

File Size:
2.50 MB
License:
Free to try, $34.95 to buy
Screenshot:
View Screenshot
Rating :
Key Features of Parabens Screen Capture:
Save your image as a BMP, GIF, JPEG, TIFF, LEAD (CMP), CALS, CCITT Fax (FAX), Encapsulated Postscript (EPS), GEM Image (IMG), IBM IOCA (RAW), Macintosh Picture (PIC, PICT), MacPaint (MAC), Microsoft Paint (MSP), OS/2 Bitmap (BMP), SUN Raster (RAS), Targa (TGA), WinFax (WFX), Windows Metafile (WFM), WordPerfect (WPG), Portable Graphics PNG, and Adobe PSD, many with optional sub-formats and variations
GIFs can optionally be interlaced and include transparent backgrounds, and Paraben's Screen Capture can create progressive JPEGs, perfect for World Wide Web page use.
Choose your color depth for BMP captures.
Use Paraben's Screen Capture for file format conversions and editing.
Capture in DirectX or 3dfx GLIDE Applications.
Capture images from multiple monitors at once, when used on multi-monitor setups under Windows 98 or 2000.
Resize captures or image files using the powerful image manipulation tools.
Edit and annotate images directly in in Paraben's Screen Capture.
Change the color depth of your image to 2, 16, 256, or 16 million colors, with eight dithering choices, or grayscale or halftone images.
Include the cursor image in your image to better display your product's features.
Use the built-in Crop feature to remove rectangular sections from within an image, or use conventional cropping for making final edits to your capture without transferring it to another program.
An Undo feature helps mitigate the "oops!" factor.
Capture an image of an entire web page, file listing, or other scrolling windows by using Paraben's Screen Capture 4's unique Auto Scroll Window capture option.
The flexible and labor-saving Window capture option captures whole windows and smaller sections of windows, highlighting the boundaries of each of your options, to make a quick and accurate capture without eyestrain and further editing.
Minimize Paraben's Screen Capture to a system tray icon, ready for action with a convenient right-click capture menu.
Choose your own hot keys that quickly capture the entire Desktop, any Rectangle you outline, or the highlighted Window or Client
Automatically repeat a capture every x seconds or by using another hot key.
Automatically save each of your captures to a file.
Print your capture directly from Paraben's Screen Capture -- it will expand the image to the size of the paper and margins that you set, print multiple pages, and even add a frame, reverse, or reduce the output to black and white!
Drag and Drop graphics files on Paraben's Screen Capture to open them!