Owl Commander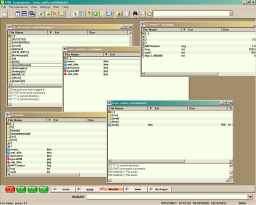 Owl Commander is a multi panel and multi desktop file manager for Windows.
It's easy-to-use and powerful application designed for users of all levels, from new users, feel themselves non-comfortable with Windows Explorer, and to experienced users who need a powerful file manager, affording all means necessary. Dozens, if not hundreds, file managers for various operating systems repeat all the same old approach to the file manager-2 panel, command line and it is all. We obviously do not want to limit you-exactly well, as to your desktop you put all your documents and books, with Owl Commander you open the requisite number of panels and have them in your order. This is not the end-wages that you have four tables simultaneously, and you can freely switch between them depending on what you need at the moment! That is the paradigm of four desks (desktops), initiated by Owl Commander. Well...The book can be closed and put on the shelf, the folder can be hided .
Well, if you want your entire desktop with folders, books and papers in a week or a year? Yes, in normal life this is a serious problem. But your Owl Commander solves this problem easily, simply burns the current set of workspace.With Owl Commander you don't need a ZIP, FTP manager and tools for cleaning disk, all have inside, just click-and we will do everything for you.
Owl Commander helps you make your job more easy and quickly.
Software Information
System Requirements
Version:
2.10

Windows 8/7/XP/Vista
Pentium or similar processor
512 MB RAM

File Size:
1.93 MB
License:
Free to try, $20.00 to buy
Rating:
Main features of Owl Commander :
Multi panel & multi desktop file manager.
Familiar Interface
The modern interface helps you to have full control over your files and folders. You can immediately begin using Owl Commander, with no learning curve, because it will feel extremely familiar and comfortable to you. Fully Configurable Menus, Toolbars and Hotkeys. Support drag&drop, right-click context menus, and clipboard operations with files.
Designed for Windows
Full support for all Windows Operating Systems from Windows 95, 98, ME to 2000,XP and 2003
Built-in ZIP and FTP Support
You not need external ZIP and FTP programs - Owl Commander lets you access ZIP files and FTP sites as easily as local folders! You can copy files from anywhere and to anywhere - even from an FTP site straight into a ZIP file!
Parallel file operations
You can have several "copy" commands going simultaneously from anywhere and to anywhere
Built-in Viewer
You can view content of files (text, html, pictures and RTF)
Enhanced Finding and Searching
Very fast file and directory search, Search by file context. search in ZIP files.
Command line for executing arbitrary commands through the system shell
Smart statistical module
Export of file statistic to external file (text,html and Excel)
More effective file search
Preview mode for text, word, RTF and image files
Split/Combine big files