Outlook LAN Messenger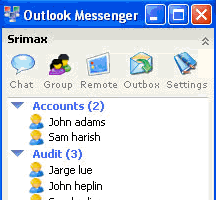 Outlook LAN Messenger is a new concept messaging solution for interactive communication within Office Network (LAN). additionally plugged into Microsoft Outlook to Share Outlook datas. Outlook LAN Messenger is Server-less, needs no IP configuration and no internet connection.
A LAN Chat program for interactive communication within Office Network (LAN). In Addition to usual Rich Text Chat, Voice Chat, Group Chat and File transfer functions, this LAN Messenger can be optionally add-on into MS Outlook enabling clients to Exchange Outlook Calendar, Contacts, Emails etc. This LAN Messenger includes value added features like simplified Offline messaging, Reminders and Alert Notes.
Outlook LAN Messenger will run instantly after installing on all the network computers, Because it's Serverless and requires no IP Addresses to configure.




Software Information
System Requirements
Version:
Version: 3.1.2

Win 9X, ME, XP, 2000, 2003
Pentium or similar processor
TCP/IP , UDP

File Size:
3.54 MB
License:
Free to try, $39.00 to buy
Screenshot:
View Screenshot
Rating:
Outlook LAN Messenger Features:
LAN Chat
Outlook LAN Messenger program supports Rich text chatting. Interactive features includes emoticons, pre-set message, Secure Chat.
Group Chat
This LAN Messenger supports Group Chat among a particular department or between selective peoples.
File Transfer
Just drag and drop any Type & Size File into user's IM box....your documents is ready to transfer. No FTP or complicated moves.
Microsoft Outlook plug-in
Outlook Messenger can be plugged into MS Outlook to Exchange and Share Outlook Calendar, Contacts, Emails, Appointments, Journals, Notes, Tasks between other Single or Multiple persons within network.
Offline Messaging
Just like yahoo, this LAN Messenger can send Messages and Outlook Datas OFF-LINE. When the recipients switch on his PC/LAN Messenger, the off mode messages are automatically delivered to him.
Reminders
Reminder can be scheduled to 1.Reminder yourself 2.Others 3.Run application 4.Open Website 5.Logoff Computer 6.Shut down computer 7.Reboot computer
Notes and Alerts
Use it to maintain small memos, or use it as an advanced auto-popup alert memo, to instruct your personal secretary to do the job when you are out of office.
Server-Less LAN Chat
This LAN Messenger requires No Server and No IP addresses to configure. This LAN Chat soft will run immediately after installation in all the network PCs.
Open LAN chat window using shortcut keys
Open Chat window using shortcut keys . For example: Press Ctrl+Shift+B for 1 sec to open Bouchen's chat window.
Sealed Message
This LAN Messenger offers a simple security system to keep the message out of trespasser's observation, when the staff is out of desk. The message is delivered with a seal, the recipient in-turn have to click the IM window to read the content.
Pre-set Messages
For quick Chat, you can assign your own predetermine messages with hot keys. For example: You can use hotkey F2 for "Good Morning", and greet others, with the press of F2.
Drag & Drop file transfer
Files can be transferred by simply dragging and dropping it into users IM window.