Song Player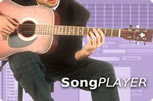 Learn every aspect of playing the guitar. Learn tablature, chords and scales, combine chords to form progressions and compositions, supports alternate tunings to 26 other instuments.







Order Now $29.95 USD
Software Information
System Requirements
License:
Free to try, $29.95 to buy

Windows 98/ME/NT/2000/XP
Pentium II CPU
64 MB RAM

Version :
2.0
Rating :
Features of Song Player:
Chord and Scale overlays - See how any scale plays over any chord, anywhere on the fretboard.
Compose your own songs or progresses from a huge chord database.
Add a Capo at any fret to more accurately replicate your favorite sounds.
Import downloaded tablature instantly from existing files
For rhythm guitarists
The Song Player has a wealth of features designed to improve your knowledge and abilities in rhythm guitar
See the note names, relative position (root, or VIIb, etc.) of the chord
See the chord's arpeggio
Hear what each chord sounds like in any position
Combine chords to form progressions and compositions
Use alternate tuning or tune to 26 other instruments
For lead guitarists
The Song Player is geared towards learning scales in the context of chords and songs. With it you can --
See scales displayed over chords, progressions and songs
Hear and see scales played at different metronome speeds
Play scales for an entire finger position or just root to root
View arpeggiated scales for any chord
Alternate tunings and support for 26 instruments apply to the above features
For tablature guitarists
The NSA Song Player can help you learn Tablature in the following ways
Watch how the tablature should be fingered each step of the way.
You can hear the tablature before you try and play it!
The Song Player will also display the note name or each played note, so you can learn the fretboard as you learn each new song!
Access any song you have downloaded, instantly!
Control playback and positioning within the tablature files quickly and easily.
Metronome control so you can see and hear you tablature and virtually and speed you choose.
The original tablature is displayed so you can follow along, with a moving highlight of where you are!
You can even import tablature for different instruments or alternate tunings!
More Screenshots - Click each image to enlarge!



The chords and scales area of the Song Player provides instant access to thousands of chords and scales and even allows you to write your own songs and progressions.

Ready for something unusual? Here is the Hindustan scale played in the key of C.

Tablature files can be imported for an easier way to learn new songs.