Nofeel FTP Server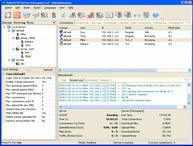 Nofeel FTP Server is a Professional, Secure and easy-to-use Windows FTP server software specially written for windows 2000/XP. With Nofeel FTP Server you can allow others to download or upload files on your PC through the File Transfer Protocol(FTP). It offers high stability and performance, at the same time consumes little system resource. You can view server's real-time statictics, and can also edit server settings easily.
Domain support
A domain is a virtual server, server has several domains, each domain has independent groups/users.
Data Compression (MODE Z)
Nofeel FTP Server supports new FTP command "MODE Z", this can compress data on-the-fly and transfer files faster.
Database Storage
You can store user settings in database for easy management.



Download Trial 3.45 MB
Software Information
System Requirements
Version:
3.0

Windows 9x/Me/NT/2000/XP
Pentium or similar processor
64MB RAM

File Size:
3.45 MB
License:
Free to try, $49.95 to buy
Screenshot:
View Screenshot
Rating:
Nofeel FTP Server Features:
High performance and stability
Based on characteristic introduced by Windows 2000, Nofeel FTP Server provides excellent performance, at the same time shows compellent stability.
Easy-to-use
Nofeel FTP Server is very easy to use, all options have same or similar operation steps. With basic wizard a newbie can build a server in three minutes. Quick settings makes you change most often used options without opening any dialog.
SSL/TLS support
SSL/TLS is the industrial standard protocol for security solution. Supporting SSL/TLS is the key of a secure FTP server software. Nofeel FTP Server support 128-bit SSL (both explicit and implicit), all data would be encrypted with 128-bit key, you don't need to worry about your data security now.
Real-time monitoring
In server administration program window, you have real-time interaction with server. In real-time running mode, you can see all current users' activities, including all client commands, server replies, downloads and uploads. If you want, you can stop the downloading/uploading or disconnect them at any time. All past connections' information, downloads/uploads are also shown.
Full connection details
Besides current users' activities, you are able to see all past connections details, including each one's downloads and uploads.
Denied IPs
All denied connection requests' details are provided, including time, IP and deny type.
Download hits
Server can count for each downloaded file, now you know which files on your server are mostly often downloaded.
Download/upload resuming
Quick settings
Quick Settings on the program's main window makes you directly change the options most often used, you don't need to open any settings dialog.
IP restriction
Allow or deny connection requests based on specified IP addresses.
Login time restriction
Allow or deny login requests based on specified time range.
Anti-hammering
This function enables you deny annoying ones that connect to server too many times in a short time.
Virtual directory/folder
Virtual directory function is very useful for managing file resources easily for server users.
Disk quota
Disk quota limitation enables you prevent users from uploading too many files.
Download/upload ratios
User must uploads some files for his(her) downloads to meet download/upload ratios you specified.
Powerful anti-idle function
You can specify which commands should be considered as idle commands by server, thus avoid many smart ftp client program's spoof.
NT service support
Server's service engine runs as a NT service, so even if your PC has no user logged on, it can still be running.
Flexible authentication
Besides password check, Nofeel FTP Server also supports NT domain authentication. It can also support customized authentication if you supply your own DLL or EXE file that meets server's requirement.
Server events
Server events management makes you can specify external programs those will be started when some events happen.
Access files on LAN computers
This enables you manage users' files much more flexibly.
More Screenshots - Click each image to enlarge!