Orion Network Performance Monitor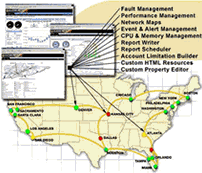 The Orion Network Performance Monitor is a comprehensive bandwidth performance management and fault management application that allows you to view the real-time statistics of your network directly from your web browser. The Orion Network Performance Monitor will monitor and collect data from routers, switches, servers, and any other SNMP enabled devices. Additionally, Orion monitors CPU Load, Memory utilization, and available Disk Space. Orion NPM is highly scalable, capable of monitoring from 10 to over 10,000 nodes.





Download Evaluation Version 188.00 MB
Software Information
System Requirements
Version:
7.0

Windows 2000 Server or Adv. Server Service Pack 4 or Windows 2003
IIS 5.0 or 6.0
Database: Microsoft SQL Server 2000
CPU: 1.2 GHz
RAM: 512 MB

File Size:
188.00 MB
Screenshot:
View Screenshot
Rating:
Key Features:
Fault Management & Availability Tools
View the status of thousands of nodes and interfaces from a single web page. Select between up/down, bandwidth utilization, interface traffic, errors and discards, and signal-to-noise ratio (for broadband networks).
CPU, Memory, and Disk Space Monitoring
Track statistics and alert on CPU load, memory utilization, buffer usage, and available disk space for devices including Cisco, Foundry, Extreme, Juniper, Motorola, ARRIS, Linux, Solaris, HPUX, AIX, Windows 2000, 2003, and XP, and more.
Network Maps
Import any map — from an existing network diagram, topology map, or even a map of the world or a city. The Map Maker allows you to import a map and make it "hot" by dragging nodes onto it.
Event & Alert Management Tools
With Orion you can set thresholds for alerting on up/down, percent of bandwidth utilized, memory utilized, CPU utilized, disk space utilized, and much more. There are hundreds of possible configurations and parameters for alerting and reporting.
Customizable Views/Menus/Toolbars
User views can be customized with a unique filtered view and a unique toolbar. Select predefined views or create your own new views of your network. Pages can be customized with individual corporate styles.
Custom Accounts by User
Define a general logon for each department or create unique accounts for each individual customer.
Report Writer
The report creation utility is simple to use and walks you through the process of either using an existing report or creating a custom report.
Custom Property Editor
The Custom Property Editor application allows you either select from a predefined list or create you own unique field. Custom properties may be associated with either a node or an interface.
Account Limitation Builder
The Orion Account Limitation Builder application allows you to create and customize limitations so that a user views only the Nodes, Interfaces and/or Volumes that you authorize.
Custom HTML Resources
Orion provides the ability to detach a monitored view (i.e. Current Bandwidth) and link to an existing HTML web page. Add custom frames.
More Screenshots - Click each image to enlarge!