NetSpeeder - internet connection accelerator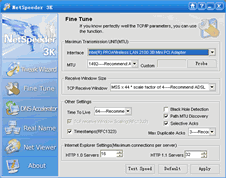 NetSpeeder is a professional internet connection accelerator. It can fundamentally optimize your internet connection speed by up to 300% and support all types of connections from dialup to DSL, Cable, and Wireless. It will correctly optimize Windows of all versions, including Windows XP, Windows server2003. Once chosen, Tweak Wizard will automatically regulate settings of various parameters.. If you know perfectly well up in the TCP/IP parameters, you can use Fine Tune function. After the optimization of the network, downloading speed will be several times faster. DNS Accelerator will automatically update hostname and IP Address in the light of favorite and history of Internet Explorer to improve the speed of access to website frequently visited. URL Simplification will greatly simplify your input (like internet real name), for example: you input "hunter" in address bar of Internet Explorer, it will navigate to "http://www.netopti.com" automatically. You can examine TCP information of the local computer, ping a group of IP address and watch connection state of TCP/UDP port.


Software Information
System Requirements
Version:
3.80

Windows 9x/Me/2000/XP
CPU: Pentinum or later
Memory: 64 MB or more
Minimum Space: 5MB or more
Note:The DNS Accelerator and URL Simplification will require the browser is IE and IE must be 5.0 or later.

File Size:
2.54 MB
License:
Free to try, $25.00 to buy
Screenshot:
View Screenshot
Rating:
NetSpeeder - internet connection accelerator Features:
Easily optimize your internet connection by NetSpeeder Tweak Wizard
Fine tweak every TCP/IP parameter by NetSpeeder Fine Tune
The internet connection speed will be improved 300% after tweak
DNS Accelerator speeds up your rate of access to website
URL Simplification will simplify your input
Ping a group of IP address and watch connection state of ports of the local computer.
Do you surf the internet? Do you often feel extremely slow speed of accessing the internet provoking?
Do you want to speed up your network?
Here, "NetSpeeder" will realize your dream.

NetSpeeder Wizard can employ 'recommended' settings automatically to speed up your network and can also use the "Test Speed" to test and compare its effect of optimization before and after the application of the software.

If you want to set these parameters by yourself, here is "Fine Tune". NetSpeeder will recommend different settings according to different networks, e.g. Modem, ADSL and Cable Modem, Lan, wireless etc.

When you finish setting of all parameters and reboot your operating system, you will amazedly find the downloading speed is improved several times

Simply click on the DNS Accelerator button and choose "Enable DNS Accelerator".
DNS Accelerator provides you with quick access to the websites you visit most often.
You can simultaneously use URL Simplification.