NeoPaint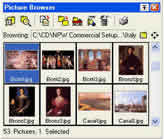 NeoPaint is a full featured artist's studio for 32-bit Windows that's easy-to-learn, powerful and affordable! It's simple enough for beginners yet packed with powerful features and advanced tools. NeoPaint makes it easy for business and home users to touch up photographs and create great looking graphics for desktop publishing, presentations and the Internet!

This update to our popular DOS paint program brings NeoPaint's ease-of-use and unique tools to Windows 95/98/ME/NT/2000 and XP. The DOS version of NeoPaint received rave reviews from numerous publications and users and quickly became one of the most popular DOS-based paint programs in the world. NeoPaint for Windows continues this tradition by blending the best of previous versions with the power, speed and flexibility that a Windows platform provides.

Some of the many new features in the Windows version include: support for many popular image formats like JPEG, GIF, PCX, TIFF, BMP and PNG; integrated support for scanners and digital cameras; professional quality output to any Windows compatible black and white or color printer; multiple undo levels; dozens of special effects and textures; custom paint brushes; photo retouch and color correction tools; high quality color and format conversion; masking; color separation; Picture Browser with file management tools; built-in NeoGrab screen capture; and dozens of other tools and options. NeoPaint's famous Stamp Pad, 3D objects and popular natural media tools including charcoal, crayon, chalk, ink, watercolor and oil paint are all here in enhanced form.



Download Now 4.74 MB
Software Information
System Requirements
Version:
4.5

Windows 98, ME, NT 4x, 2000, XP or higher
A hard disk with 8.5 MB free space
Mouse or other Windows-supported pointing device
Windows-supported printer (optional)

License:
Free to try, $49.95 to buy
Download Now:
4.74 MB
Rating :
Key Features of NeoPaint:
Painting and Drawing Tools: Brush, Airbrush, Highlighter/Magic Marker, Charcoal, Crayon, Chalk, Watercolor, Oil, Quill Pen, Custom Brushes, Eraser, Color Eraser, Flood Fill, Tile Fill, Gradient Fill, Color Replacement Fill, Text, Line, Bezier Line, K-Line, Color Sampler, Smudge, Blend, Sharpen, Soften, Sponge, Clone, Red-Eye Removal, Multi-Level Zoom, Patterns, Rectangles, Ellipses, Polygons, 3D shapes and more.
Multi-Level Undo/Redo: Powerful undo/redo feature keeps track of multiple changes made to your pictures.
Stamp Pad:Quickly assemble pictures using collections of clip art and stamp images. Create, edit, rename and delete stamps. Stamp images may even be used as custom multi-colored brushes.
Selection Tools: Rectangle, Ellipse, Polygon, Freehand, Fill and Color selection with Transparent, Solid, and Edge Blending options.
Special Effects and Textures: Blur, Erode, Sharpen, Soften, Noise, Antialias, Impressionism, Pen & Ink, Pointillism, Mosaic, Border, Buttonize, Vignette, Auto Trim, Fade, Halftone, Posterize, Solarize, Blend, Emboss, Lattice, Motion Blur, Pixelize, Screen, Smoked Glass, Streak, Wirlpool, Wave, Acid Wash, Cameo, Crystallize, Texture Melt, Toxic Rain and Vaporize. Textures: Brick, Burlap, Canvas, Cast Iron, Clouds, Coral, Crumpled Paper, Denim, Dirt, Fire, Grease, Leather, Marble, Matting, Melted Plastic, Oatmeal, Plasma, Sand, Sponge, Stucco, Thick Paint, Tile, Water, Wood and more.
Color Control: Works with 2, 16, 256, grayscale and 16 million color images. Custom Palettes, Color Balance, Color Similarity, Brightness, Contrast, Hue, Saturation, Color Reduction/Conversion, Color Separation/Combining, Gamma Correction, etc.
Screen Capture: Integrated NeoGrab utility that makes creating screen shots for manuals, training, newsletters and web sites fast and easy. A variety of capture methods make it simple to get just the portion of the screen you want.
Picture Browser: Integrated Picture Browser can be used to display thumbnail previews of an entire folder of image files. Additionally, previewed files may be opened, copied, moved or deleted using the included file management tools.
Scanner Support:Provides direct access to most TWAIN compatible scanners and digital cameras.
Printing: Excellent printed output to any Windows compatible black and white or color printer! Print preview allows exact placement and sizing. Print crop marks, CMYK separations, and more.
Internet/Web support: Create and edit Animated and Transparent GIF images. Use the GIF and JPEG optimization functions to reduce file size. The "Load from the Web" option can load images into NeoPaint using an Internet URL address.
More Screenshot- Click each image to enlarge!