AudioWriter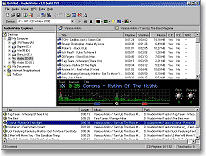 With AudioWriter you can create your own customized Audio CD's from WAV or MP3 files ...

Convert Audio to WAV/MP3
Easily drag & drop your music-tracks from all your Audio's CD's, or convert WAV/MP3 files to the right format to write on your CD! Creating Audio CD's was never easier!

CDDB: Get disc and track titles through Internet!
With AudioWriter you can automatically get disc and track titles accessing CDDB worldwide database through the Internet. The program is 100% compatible with CDDB (query). With this feature you will no longer need to enter disc and tracks titles manually. Simply insert an audio disc in AudioWriter and a few seconds later disc and track titles appear in the display. Once retrieved, the disc and track titles are stored in cdplayer.ini for later use. Of course you can edit or change all info in the CD-Database.

What is CDDB?
If you are not familiar with CDDB or its database and service, the concept is a simple one. On commercial music compact discs, there is no disc title, artist, track title, credits, or other information that a player application running on your computer can extract and display for you. However, AudioWriter can scan the CD inserted into the computer, extract its TOC (Table Of Contents), and look the disk up in CDDB massive database (over 400,000 discs and 4.5 million tracks). The CDDB database then returns the title and track information to the player application for display by the time you hear the first notes of the album.

Manage your personal disc database
A built-in utility permits you to organize all your discs in a local database. The first time you insert a disc, information about it is automatically downloaded via Internet CDDB and is stored in a local database. With AudioWriter you can store and manage an unlimited number of discs in that database. For each disc you can specify title, artist, and track info. You can also import disc information from CDPLAYER.INI files (the Windows CD Player file format).
View/scan/play all WAV/MP3 Files on your system, play Audio CD's
Reorganize your music-tracks in the CD-Layout.
Edit/add effects to your sound files
Burn your new customized CD!
Work with online database CDDB
Convert all kinds of audio files
Edit/Change wave files
and many more!
Sound editor
Before writing your files to CD, you can edit the sound files in the Wave Editor. Add echo, FadeIn/FadeOut, Normalize, Stretch, Reverse, Amplify or Mix your music with other file(s). Delete sections of the audio file, copy them, and fine-tune the file to your needs. You can even record your own sounds!

Convert center
The convert center has everything you need to convert audio-files:
MP3 -> WAV
WAV -> MP3
WAV <-> WAV
CD -> MP3
CD -> WAV
Software Information
System Requirements
Version:
New

Windows 8/7/XP/Vista
Pentium II CPU
64 MB RAM
Soundcard: MME-compatible Soundcard
Graphics: 256 colors 800 x 600
Drives: IDE- or SCSI-CD Writer device

File Size:
6.92 MB
License:
Free to try, $29.95 to buy
Screenshot:
View Screenshot
Rating :
Key Features of AudioWriter :
Play Audio CD's, Wave & MP3 files
Local Disc Database to store disc information (title, artist, track titles…)
Support for BURN-PROOF!
Writes MP3 files directly to CD without converting them first!
Burn your own customized Audio CD's
100% CDDB compatible to automatically display disc and track titles
Permits you to choose your favorite CDDB server
Built-in Disc Database Manager
Convert Audio files: MP3 -> WAV, WAV -> MP3, WAV <-> WAV, CD -> MP3, CD -> WAV
Batch convert wave/mp3 files
5 display views: Spectrum, Oscope, VuMeter, Spectrogram, Light
Audio: CD Text Support (if supported by CDROM)
Audio: Supports cdplayer.ini
Read/Write MP3 Tags
Easy to use interface
Record Wave files (microphone required)
Wave file Editor
Wave Edit: Amplify+, Amplify-, Silence, Echo, Mix from file, Invert
Wave Edit: Normalize, Reverse, Stretch, Fade In, Fade Out