MovieWorks Deluxe for Mac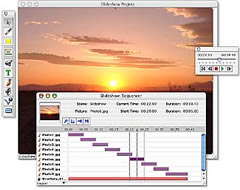 MovieWorks combines simple-to-use video, sound, animation and paint editors with a powerful multimedia authoring program. Create precisely-timed presentations with unprecedented ease, speed, quality and affordability, and deliver linear projects on a data CD/DVD, set-top DVD, iPod, PDA, web page or computer; or interactive projects on a computer or data CD/DVD.
The five integrated MovieWorks Deluxe applications work together seamlessly, making it easy to incorporate analog (AV) or digital (DV) video, buttons, photos, graphics, animations, 3D, narration, MIDI, MP3, CD music, text and titling, and even Virtual Reality (VR) movies into stunning, professional-quality multimedia productions. Users create an unlimited number of scenes, and then link them together either sequentially or through menu-driven button links. Scenes may include any combination and number of media objects, and are used to organize projects into logical segments. For more sophisticated productions, easily add custom play controls, and links to Web pages and other documents.



Download demo 5.53 MB
Software Information
System Requirements
Version:
7.01

Mac OS 8.6 or higher, 10.1.X or higher
50 MB of hard drive space
128 mb or more of RAM
QuickTime 5.0 or higher
CD or DVD drive

License:
Free to try, $79.95 to buy
Rating:
MovieWorks Deluxe Features:
Productions of Any Length and Size
Create an unlimited number of scenes, which are like chapters in a book, and then link the scenes together either sequentially, or through menu-driven button links. A scene may include up to 100 objects - video, pictures, buttons, graphics, animations, 3D, narration, MIDI, MP3, CD music, text and VR.
Powerful Interactivity
Create or import an unlimited number of buttons for making menus, links to Web pages, PDF files and other documents, or custom play controls (Play, Stop, Rewind and Quit).



Click to enlarge!

Multi-track, "time-based" Sequencer window
Easily edit the duration and start time for your objects in the Sequencer window by simply resizing and/or moving its corresponding timebar.
Object-Oriented Screen/Page Layout
Create sophisticated multimedia productions up to 1280 x 1024. Objects may be positioned anywhere on the screen and easily lined up using the alignment tools. Select more than one object at a time for group resizing and positioning.
Five Programs in One
Time-based presentation/authoring tool; Sound editor - record and edit narration & CD quality sound plus effects; Animation editor - create cell animations up to 256 x 256 with an unlimited number of frames; Video editor - capture from analog (VCR, camcorder) and/or digital (DV camcorder) devices; Paint/Photo program - standard paint tools plus basic photo editing tools - brightness/contrast, crop and rotate.
High Quality Productions
MovieWorks Deluxe leverages QuickTime's powerful compression/decompression architecture, leading to smaller file sizes, higher-quality video, audio and photography, and reduced memory requirements. As its name suggests, QuickTime also keeps multimedia productions perfectly in sync.
Batch Processing Tools
Drag and drop any number of media files on MovieWorks Deluxe, at one time, for fast and easy importing. Pictures can be automatically resized, cropped and/or compressed when imported. Sequencer window allows you to auto-sequence or apply transitions to all selected objects at once. Place markers in the Sequencer window and auto-sequence selected objects to the markers.
Transitions
12 proprietary, formula-based transitions for small files & Web movies - 150 other transitions through access to QuickTime transitions library.
Path Animation and Scaling Tools
5 geometric, path-based animation tools. Time-based scaling effects for Z-axis perspectives and picture/video pan/zoom effects.
Multiple Export Options
Export any scene as an "unrendered" or "rendered streaming" QuickTime movie, AVI file, or to tape or a DV camcorder. Unrendered movies are very small in file size and are great for Web-based slide shows.


Virtual Reality (VR)
Productions may include any number of VR movies.
Royalty-Free Clip Media
Over 300 megabytes of royalty-free QuickTime movies, frames, backgrounds, buttons, pictures, music, MIDI, VR, animations, and 3D files.