Mixcraft Recording Studio Software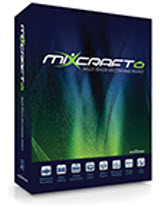 Mixcraft 5 is a powerful yet easy-to-use multi-track recording studio that enables you to record audio, arrange loops, remix tracks, compose with virtual instruments, score and edit video, and add effects to create stunningly professional compositions. Easy enough for everyone and powerful enough for the pros. Get a studio for a song with Mixcraft 5!
Mixcraft includes over 3000 music loops, sound effects, and music beds that can be easily drag-and-dropped into your project. Combine drum, bass, and guitar loops with synth, organ, pianos, vocals, orchestral and percussion loops to create your own custom arrangement.
Mixcraft 5 offers 8 powerful virtual instruments and 20 high quality effects.
Load and edit video files with ease. Easily cross−fade from one video clip to another. Remix the audio, add a soundtrack, and effortlessly render your video project to popular formats for creating your own DVDs or uploading to YouTube™ and other popular internet video sites.
Software Information
System Requirements
Version:
5.2 (b152)

Windows 8/7/XP/Vista
Pentium II CPU
512 MB RAM or More

File Size:
Full Version - 96.0 MB
License:
Free to try, $74.95 to buy
Screenshot:
View Screenshot
Rating :
Mixcraft Recording Studio Software Features:
Easy to use multitrack audio/music recording software!
Unlimited tracks depending on your computer's processing power!
Pan, volume, solo and mute on each track.
Cutting edge 32 bit sound engine for maximum sonic quality!
Full support for 24 bit recording and playback!
Read and write high quality audio, including broadcast quality 24 & 32 bit WAV files up to 192 kHz.
Import compressed MP3, WMA, OGG and WAV files!
Time stretch any file from 25% to 400% without affecting the pitch! No chipmunks! Pitch shift sounds from -24 to +12 semitones!
7 Powerful Built In Effects including

Reverb – Simulate environments
Delay – Create multiple echo effects
EQ – Boost bass, treble, mid-range, 10 band EQ
Compression – Boost dynamics to sound louder
Flanger – Create a whooshing effect
Chorus – Double up your vocals
Distortion - Give it some grunge!

Support for VST & DirectX effects - Download and install 3rd party effects such as Vocal Removers, Vocal Isolaters, De-essers, Delay, Echo, Distortion, Overdrive, Amplifier simulators, Compressors, Limiters, EQ, Exciters, Enhancers, Filters, Gates, Imaging, Panning, Lo Fi effects, Mastering plugins, Modulaters, Flangers, Chorus, Tremelo, Noise Removal, Restoration, Pitch Shifters, Reverb, Ring Modulators, Spectral Processors, Tuners and Vocoders. More on DirectX and VST Effects...
Shape your sounds with low pass and high pass resonant filter automation. Great for DJs!
Automatic recording timer to make it easier to record LPs and cassettes.
Track marker wizard - split your LP and cassette recordings automatically into separate tracks!
Automatic drag and drop cross-fading!
Easy looping tools – Create loops out of sections of other sounds or songs.
Render to Realaudio, MP3, WMA, OGG and WAV, including broadcast WAV files at high sample rates and bit depths. (Includes 24 and 32 bit sounds and sample rates up to 192kHz
Create your own ringtones, assuming your phone supports MP3s.
Create custom MP3s and then 'podcast' them in your pod cast software.
Burn your own CDs!