MiniLyrics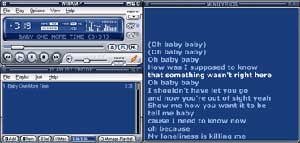 MiniLyrics is a fascinating lyrics viewer for synchronizing and displaying lyrics of the currently playing song in many types of media players: Winamp, Windows Media Player 9.0/10.0, iTunes, MusicMatch Jukebox, Quintessenial Player, Foobar2000, RealPlayer, MediaMonkey. MiniLyrics makes your music come alive with streaming lyrics that are timed with the song. You can follow along with the artist and catch every word. MiniLyrics is the easiest-to-use Lyrics viewer software, download and install MiniLyrics, just start your player, MiniLyrics will show timed lyrics along with the music; MiniLyrics supports to save/load ID3v2 synchronized/unsynchronized lyrics, you can view lyrics in Windows Media Player, iTunes, iPod; you can also custom the MiniLyrics' skin, lyrics display style, font, color etc..




Software Information
System Requirements
Version:
4.3.2175

Windows 98,ME,2000,XP,2003,Vista
Pentium II CPU
64 MB RAM

File Size:
923 KB
License:
Free to try, $19.95 to buy
Rating :
Why MiniLyrics? :
Largest: Has largest online time-stamped mp3 song lyrics database and it is expanding every day!
Easiest: You do NOT need to do anything. When you run your Winamp, iTunes, lyrics just automatically comes to you and scrolls with time.
Most Flexible: You can create your own time-stamped lyrics and share with others.
Most Compatible: Has multi-lingual compatibility. It reads and displays lyrics of English, Spanish, Chinese, Japanese, German, Hebrew, Portuguese...etc.
More Advanced Features: You can change the skin of MiniLyrics, you can change the font, font size, font color, and background color, you can change the lyrics display style...
Getting started with MiniLyrics
1. Installation

Download the install program from here. After you have the .EXE file, just run it from Windows. (If you already have installed MiniLyrics, you do not need to uninstall it, just install the newer version over the older version.)
The setup program will ask you some questions to guide you thru the setup process.
Once MiniLyrics is installed, start your player (Winamp, Windows Media Player, iTunes ...) and MiniLyrics should run with the player. You should have an a MiniLyrics icon in your system tray like the one shown here. Click the icon to show the lyrics window.

2. Download Lyrics

When you play your songs, MiniLyrics will search, download and display lyrics automatically. You may be asked to select the best match lyrics to download. Or you can search and select lyrics manually by click the context menu item 'Download Lyrics'.
1) MiniLyrics will show a lyrics downloading dialog.
2) Enter the correct artist and title of the song and click the 'Online Search' to search lyrics. The lyrics database is expanding every day.
3) Select the best match lyrics, then click the 'Download' button, MiniLyrics will download the selected lyrics, and the lyrics will be displayed in a few seconds.
4) If you can't get any suitable lyrics in the result, please click the 'No suitable Lyrics', and MiniLyrics will never prompt for downloading lyrics for this song.





3. More Advanced Features

MiniLyrics support more advanced features. You can change the skin of MiniLyrics, you can change the font, font size, font color, and background color, you can change the lyrics display style. Just right-click on the MiniLyrics main window or the MiniLyrics icon in your Windows tray icons, and point to 'Tools', then click 'Preference'.