Mil Shield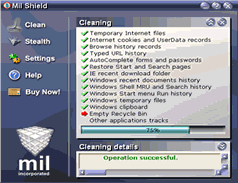 Mil Shield protects your privacy by deleting all tracks from your online or offline computer activities: cookies, cache, history, INDEX.DAT files and all other tracks. There are some unique new features in this release: Selective cleaning (selectively preserves temporary Internet files, history and/or cookies for chosen by you safe Internet sites), Panic key combination, Automatic cleaning, Support for multiple user accounts.
Your computer remembers the movies, images and documents you have opened and the web sites you have visited. Ask yourself what would happen if your boss, spouse, kids or colleagues could see what you have been doing. Mil Shield deletes all tracks from your computer activities. With Mil Shield you can browse, work or entertain without fear and concerns.
Mil Shield supports selective cleanup of Internet browsing tracks (including cookies, history, Temporary Internet Files and index.dat files), automatic cleaning on Windows startup or shutdown or when Internet Explorer is closed, boss key (also known as panic key) and full support for many user accounts. It also cleans Google and MyWaySearch toolbar history. After initial configuration you can use it in install-and-forget mode.




Software Information
System Requirements
Version:
5.80

Windows 9x/Me/NT/2000/XP/Vista
Pentium or similar processor
4 MB free hard disk space
Internet Explorer 3.0 or higher version
Supports Mozilla Firefox 1.0.2 or higher version
32MB RAM

File Size:
1.76 MB
License:
Free to try, $29.00 to buy
Screenshot:
View Screenshot
Rating:
Key Features of Mil Shield :
Selective cleaning
Many of privacy threats come from Internet Explorer features that are good and convenient: Internet cache speeds up the browsing, cookies protect you from entering your user information over and over again, etc. Mil Shield selectively preserves temporary Internet files, history and/or cookies for chosen by you safe Internet sites.

Cleaning of Firefox tracks
Mil Shield cleans all kinds of Firefox tracks: cache, cookies, history, forms history, Search Bar history, downloads history, last download folder and saved passwords.
Automatic cleaning
You can schedule background cleaning at each startup or shutdown, or when the Internet Explorer is closed.
Advanced cleanup scheduling
For more advanced users Mil Shield offers additional way to automate making of silent cleanups. You can use the command-line utility ShieldAgent.exe to schedule silent cleanups at arbitrary times using Windows Task Scheduler, other scheduling program or batch script.
Support for user accounts
On multi-user systems most of the tracks are user-specific. With Mil Shield you can choose the user accounts that will be cleaned.
Cleans and shreds Index.dat files
Index.dat files are cache files used by Internet Explorer. When you visit a Web page, Internet Explorer saves the address of the page, time of visiting and even HTTP request for this page in few different Index.dat files. The cookie names and some other information is also stored in the Index.dat files. Later this information is not deleted even if you delete History and temporary Internet files folders content. Everyone can see the contents of these files with a binary editor program, which exposes all tracks of your browsing.
These files can not be found with regular file search and even if you find them, you can not delete them because they are used by Windows all the time. Mil Shield deletes the contents of these files with low-level file operations to be sure that there are no traces left.
Boss key combination
Every now and then there are situations where you need to clean the tracks very fast. For example it may be your boss coming in while you are losing your time browsing the Internet. For such cases there is so called stealth key combination in Mil Shield. All you need to do is to press certain keys together and all open Internet Explorer windows are closed and an invisible background cleanup is started.
Cleans AutoComplete forms and passwords
The AutoComplete feature of the Internet Explorer saves previous entries you've made for Web forms (including your name, e-mail, SSN, credit card information) and passwords. Then, when you type information in one of these fields, AutoComplete suggests possible matches. Obviously this is a major privacy threat. Mil Shield reliably cleans all AutoComplete records.
Restores home page of the Internet Explorer if it has been hijacked
Many Web sites change (also known as hijacking) your home page to their pages (usually full of ads and with many annoying pop-up windows). Mil Shield allows you to set a preferred home page that will be restored each time when a cleaning is performed.
Cleans all kinds of Web browsing tracks
Mil Shield cleans following Web browsing tracks:

AutoComplete forms and passwords.
All Index.dat files.
Temporary Internet files (a.k.a. Internet cache).
Cookies.
UserData records.
Typed URL history.
Browse history records.
Most recently used download folder.
Restores your home page (both on Internet Explorer and Firefox).
Firefox cache, Firefox cookies, Firefox history, Firefox forms history, Firefox Search Bar history, Firefox downloads history, Firefox last download folder, Firefox saved passwords.

Cleans all kinds of Windows tracks
Mil Shield cleans all kinds of Windows tracks:

Recent documents history.
Most recently used folders records of the Windows shell.
List of most recently opened files of common file dialogs.
File and computer search history of the Windows shell
Start menu Run history.
Start menu most frequently used (MFU) programs list (the list in the left part of Windows XP Start menu).
Recycle Bin at low level (not only through the Windows shell).
Windows temporary files.
Windows clipboard.

Cleans the tracks of some popular applications
Mil Shield cleans the tracks of the following applications:

Windows Media Player, Microsoft Office, ACDSee, Irfan View, WinZip, WinRAR, GetRight, FlashGet, Go!Zilla, Download Accelerator Plus (DAP), Net Vampire.
Google Desktop Search web history records, Google Desktop Search e-mail records, Google Deskbar, Google Toolbar.
Yahoo toolbar (Companion).
ICQ toolbar.
MSN toolbar.
MyWaySearch PopSwatter Toolbar.

Works even on older computers
While Mil Shield takes full benefit of the new technologies in the latest versions of Windows and Internet Explorer, it fully supports and is completely tested on the older systems like Windows 95, Windows NT 4.0 and Internet Explorer 3.
Related Article and Tutorials:
RELATED MilShield SOFTWARE DOWNLOADS