MailScan - Complete Antivirus and Content Security Solution for your computer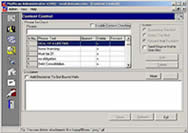 MailScan 4 is world's first 'Real-Time', Content Security software that performs content filtering and virus scanning. It provides complete and secure messaging solutions for e-business.
With MailScan's revolutionary technology that creates a layer, termed as MicroWorld WinSock Layer (MWL), any traffic that comes into a company's network is scanned for security violations. If any violation or threat is detected, MailScan immediately warns the network administrator and the sender of the possible actions.
MailScan 4 is designed to provide extensive security against viruses and e-mails carrying harmful content. It deals with these threats before they enter your network, in the same way that a firewall controls user access.
MailScan for Mail-Server acts like a "Transparent Gateway" between the Corporate Mail Server and the Internet. All mails must pass through MailScan. This ensures maximum security in delivering messages.
MailScan works at "TCP/IP Port level" and hence does not require an additional machine to act like a gateway. MailScan is based on MicroWorld's pioneering " MicroWorld-WinSock-Layer (MWL)" technology, the first of its kind in the world.


Software Information
System Requirements
Version:
6.40

Windows 7/Vista/Me/NT/2000/XP
Pentium or similar processor
64MB RAM

License:
Free to try, $19.95 to buy
Screenshot:
View Screenshot
Rating:
MailScan Features:
Anti Virus Scanner
MailScan has its' own inbuilt Anti-Virus, 'eScan', which is integrated with the software in DLL format.
Content Scanning*
All incoming and outgoing messages are scanned for abusive words and/or phrases, which are pre-defined by the Security Policy Administrator of MailScan. If such words occur, warning messages can optionally be sent to the Administrator, the sender and the recipient.
Compression*
Oversized files are compressed using standard file compressors. MailScan can be configured to create '.EXE' files or self-extracting zip files that can be automatically uncompressed at the recipient's machine, even if the recipient does not have an Unzip Package installed on his machine.
Uncompress Facility*
All incoming compressed attachments can be uncompressed, scanned for viruses and passed to the Mail Server for distribution to the end users.
Virus Scanning
MailScan, scans all incoming and outgoing e-mails for viruses using the 'eScan' Anti Virus software, developed by MicroWorld.
Automatic Updates
MailScan has self-learning and automatic detection capabilities that recognize the Internet connectivity. When MailScan detects an Internet connection, it automatically connects to MicroWorld's FTP server to check for and download Updates. With this feature (that works on dedicated as well as dial-up lines), all MailScan users across the world receive updates on a regular basis. Both Attachment filter rules and AntiVirus Updates are downloaded.
Scan Control*
Administrators can define a selective list of users (on the MailScan Server) whose mails need to be scanned for any restrictive content, as defined by the Network Administrators. Administrators can also block certain domains (users cannot send or receive mails from such pre-defined domains).
Attachment Reservation
Administrator can restrict certain attachments from being sent or received from the Internet. For example, a rule can be defined so that any e-mail received by a user having *.EXE or *.COM file attachments, should be auto-forwarded to the administrator. Unknown viruses can be very effectively tackled using such rule-sets.
Policy based Rule-Sets
MailScan works on policy-based Rule-Sets. Rule-Sets have been categorized as Universal and Company-specific.
Customized Messages
Customized Virus Warning, Content Warning and Reserved Attachments Warning can be sent to the Administrator, the sender and the recipient.
Forcibly Scan HTML Messages
It forcibly scans HTML messages (not having attachments), to prevent script viruses (like Bubble-boy) from entering your network.
Malicious Attachments Deletion
Provides an option to forcibly delete known malicious attachments (Trojans and worms) at the gateway level itself. This list is dynamically updated from the Internet at regular intervals, along with normal Anti-Virus and Policy updates.
S/MIME Check of Messages
MailScan has the capability to check if an e-mail is digitally signed (S/MIME) and warn the user if the content gets changed.
MailScan works like a Service
It can be installed as a System-Service on Windows 95/98/ME and Windows NT/2000.
Heuristic Scanning
MailScan's heuristics scanning feature ensures that 90% of unknown viruses are automatically detected, much before the world even gets to know about these viruses. Unknown virus infected files display suscipious behavior. Such files and attachments are detected by MailScan's heuristics engine and are quarantined to a safe directory.
Easy and convenient Administration
MailScan provides a very easy and convenient way of administrating Rule-Sets and Security Policies. Users can install MailScan and use the default settings. All threats, updates, security policies and rule-sets are "automatically updated" from the Internet, without any user-intervention.
Get Up-to-date names of Viruses via e-mail
Whenever MailScan automatically downloads updates, the administrator is informed by e-mail about the time and date of update, number of files downloaded and also a list of viruses that the update cleans. Virus policy updates are done on a daily basis.
Extensive Logs
Every action of MailScan is properly logged. The administrator can control size of Log files and create backups of old Log Files.
TCP Connection added
The TCP Connections link opens a screen that lists all the active TCP connections on your system. Information about the processes, protocol, local addresses, remote address and the status of the process is given. Menus in the tool bar allow you to resolve address, find properties of processes, end processes, etc.
RBL link added in MailScan Administrator
Option added connects to the URL www.rbls.org site. This site provides IPs of known Spammers and has an active real time blackhole lists. You can verify if any IP that connects to your mail server is listed and take the appropriate action.