Magicbit 3GP Cell/ Mobile Phone Converter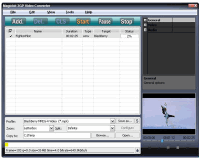 Magicbit 3GP Cell/ Mobile Phone Converter is a professional mobile phone tool that allows users to convert almost all popular video formats MPEG1/MPEG2/MPEG4, WMV, 3GP, MOV, RM, DV, YUV, H264, MP4 to 3GP file. It also converts 3GP video file to popular video formats such as 3GP to AVI, 3GP to MPEG and audio file formats like MP3, WMA, OGG, AAC, M4A, WAV, AC3 and so on to 3GP file format or converting 3GPP file to AVI or MPEG file. It can also extract audio from 3GP file or convert audio file to audio-only 3GP file.

Magicbit 3GP cell phone converter is a powerful 3GP converter which support convert MPEG to 3GP, AVI to 3GP and WMV to 3GP! Our 3GP Cell/ Mobile Phones Converter is designed for your cell phones, also handle convert 3GP video clip to AVI and 3GP to MPEG to your PC! or convert from RM, MP4, MOV, WMV, MPEG, AVI to 3GP file. You can use it to convert MPEG to 3GP video clip or AVI to 3GP video clip and play them in Motorola, Nokia, samsung, LG, Sony Ericsson, Sharp, and so many mobile phone or other software 3GP, 3GPP player. A quite great 3GP converter for your mobile phones.
Supports Pentium 4 Hyper-Threading Processor and batch convert. Convert MP4 to MP3 music, convert all video files to phones.




Software Information
System Requirements
Version:
4.3

Windows 8/7/XP/Vista
64 Megabytes Minimum
800x600 Minimum
Pentium II or Equivalent 333 Mhz

File Size:
13.7 MB
License:
Free to try, $27.50 to buy
Screenshot:
View Screenshot
Rating :
Unique
Designed for Cell/ Mobile Phones!
Best quality This software pack provides you excellent image/sound quality and smaller file size just in a few clicks. Easily and quickly!
Fast file format conversion fast conversion speed than other, suport Intel Pentium 4 HT. Ultra-high speed to convert your whole Moives.
Support all popular video file formats to Cell phone MP4, Cell phone 3GP.
3GP Cell Phone Converter Key Features
Convert various formats including DVD, VCD, SVCD, MOV, RM, AVI, MPEG, WMV, MPEG1/MPEG2/MPEG4 to 3GP;
Suppot convert VIDEO formats: AVI, MPEG, WMV, MOV, MP4, RM, RMVB, DivX, ASF, VOB, 3GP, 3GPP .etc;
Convert 3GP to popular audio files, including MP3 and WAV;
Support batch conversion;
Encode several files simultaneously;
Support multithreading, you can convert multiple files at the same time;
Converts any clip or segment of input file;
Supports preview. Users can preview the input files before conversion;
Support multithreading, you can convert multiple files at the same time;
Specification
Supported file format:

Video:
MPEG (mpg, mpeg, dat, vob); WMV; ASF; AVI; QuichTime (mov, qt); MPEG4 (mp4); 3GP; DV (dv, dif); Real Video (rm); Animated GIF (gif - decoding only); Macromedia Flash (swf - decoding audio only);

Audio:
MPEG Audio (mp2, mp3); WMA; WAV; AU; MPEG4 Audio (m4a); Real Audio (ra); OGG; AAC; Raw AC3 (ac3); NUT Open Container Format (nut);

Video and audio codecs

Video codecs:

MPEG1 video; MPEG2 video; MPEG4(DivX4/DivX5); MSMPEG4 V1; MSMPEG4 V2; MSMPEG4 V3(DivX3); WMV7; WMV8; H263(+)(Real Video 1.0); MJPEG; Lossless MJPEG; Apple MJPEG-B; Sunplus MJPEG; DV; Huff YUV; Asus v1; Asus v2; Creative YUV; H.264; Sorenson Video 1; Sorenson Video 3; On2 VP3; Theora; Intel Indeo 3; FLV; ATI VCR1; ATI VCR2; Cirrus Logic AccuPak; 4X Video; Sony Playstation MDEC; Id RoQ; Xan/WC3; Interplay Video; Apple Animation; Apple Graphics; Apple Video; Cinepak; Microsoft RLE; Microsoft Video-1; Westwood VQA; Id Cinematic Video; Planar RGB; FLIC video; Duck TrueMotion v1; VMD Video; MSZH; ZLIB; TechSmith Camtasia; IBM Ultimotion;

Audio codecs:

MPEG audio layer 2; MPEG audio layer 1/3; AC3; Vorbis; WMA V1/V2; AAC; Microsoft ADPCM; MS IMA ADPCM; QT IMA ADPCM; 4X IMA ADPCM; G.726 ADPCM; Duck DK3 IMA ADPCM; Duck DK4 IMA ADPCM; Westwood Studios IMA ADPCM; SMJPEG IMA ADPCM; CD-ROM XA ADPCM; CRI ADX ADPCM; Electronic Arts ADPCM; RA144; RA288; RADnet; AMR-NB; AMR-WB; DV audio; Id RoQ DPCM; Interplay MVE DPCM; Xan DPCM; Apple MACE 3; Apple MACE 6; FLAC;
Magicbit 3GP Cell/ Mobile Phones Converter Frequently Asked Questions
Q: I want to change some settings for my convertion. Where can I found them?
A: All the settings of the software can be found in the right panel of the main window. After you highlight the file you load and select the output format, the adjustable settings will be active, such as the "Frame Rate", "Sample Rate", "Video/Audio Bit rate" and so on.
Q: It is said that your software can detect and show the basic information of the file after it is loaded. Where can I find it?
A: Load your file and highlight it. The basic informations of the file, such as "Video Codec", "Frame Rate" and so on, will be shown in the preview screen.
Q: My output file is out of sync. How to solve it?
A: Please lower down the video bit rate to have a try. It can be found on the right panel of the main window. You also can solve it by adjusting the frame rate.
Q: I want to convert my 3gp files to MPEG1/2/4, but I got a "Fail" after I clicked "Encode".
A: You have to change settings to make the Encoder work. For example, change "sample rate" to "44100", "Frame Rate" to "29.97". If the output file has no sound, you need to change "Audio Channel" to "Stereo".
Q: Why do some of my AVI files can not be converted to MPEG1/2/4 and just get "Fail" information? And also, some MOV files from digital camera have the same problem.
A: AVI/MOV files might be created with lots of different video codec. AVI/MOV files with mjpeg codec have the problem above mentioned. You need to change settings to make the software work. You'd better set"frame rate" as 29.97, "Sample Rate" as "44100" to have a try. If your file is in MOV format, you need to select "2(Stereo)" for "Audio Channel" so that you can play the output file smoothly.
Q: I just want to make a clip of the conversion. How can I set it?
A: You need to set the "Start Time" and "Duration" of the conversion by entering the starting time like "00:00:00" and setting the duration, the duration sould be counted by second. For example, if you want to convert clip of 1 minute and 20 seconds, you should enter "80s" in the "Duration".
Q: I want to convert a file to 3GP, but the quality of the target file is too terrible. How can I get a better quality 3GP file?
A: You'd better set the "Video codec" to "mpeg4", which is better than others, and select a larger "Video Size" with the "True" for "Same_quality" choice. You will get a 3GP file with better quality; it is a matter of course that the size of the 3GP file would become larger.
Q: My mobile phone can only play the 3GP file with resolution 320x240, but I get "Fail" if I set it with your software.
A: You must choose "mpeg4"as the video codec so that you can succeed in conversion with the higher resolution.
Q: I have succeeded converting my video to 3GP format. It plays well on PC with QuickTime. But while I import it to my mobile phone, it is terribly out of sync.
A: Different mobile phones may have different request of "Frame Rate" for 3GP files. Most of them are lower than what PC needs. So you'd better set "Frame Rate" to a concrete number instead of the default one "Auto". Actually, you can import a file which can play well on your phone into the software to detect the "Frame Rate" by our software. The frame rate detected by the software would be the one which works for your phone.
Q: I always get "Fail" while I try to decode video files to some audio formats such as mp3 and m4a. How can I get a successful conversion?
A: You'd better adjust "Sample Rate" to "44100" to have a try. You can find it on the right panel of the main window, it is a drop-down list.
RELATED SOFTWARE DOWNLOADS FOR MAGICBIT 3GP CELL/ MOBILE PHONE CONVERTER