Lockspam Pro - safe spam blocker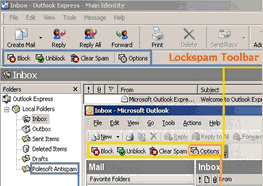 Lockspam Pro is safe spam blocker product for all POP3 mail clients, like Microsoft Outlook, Outlook Express, Eudora, Incredimail, Pegasus Mail, The Bat!, Mozilla, Foxmail, i.Scribe and many others. As a professional version, the 3.0 Pro version has an 8-step effective filtering process to safely single out spam from good mails.
It seamlessly integrates with these mail clients to stop spam from pouring into your mailbox. What's unique about Lockspam lies in its high safety. It could safely kill the spam and protect your innocent mails. Lockspam adopts Polesoft's unique patent-pending anti-spam technologies which are focusing more attention on safeguarding your good mails in addition to blocking junk mails effectively. Therefore, your correspondence and privacy get under perfect protection.



Software Information
System Requirements
Version:
3.0

Pentium Processor or faster
64MB RAM or more
At least 10 MB free disk space
POP3 Mail client
Internet connection
Win98/Win98SE/WinME/Win2000/WinXP

File Size:
11.8 MB
License:
Free to try, $39.95 to buy
Screenshot:
View Screenshot
Rating:
Below are the key features of Lockspam Pro:
Safety:


8-step Filtering Process
a) 4-step Primary Filtering: An incoming mail will be screened through Allowed List > Allowed Keywords > Blocked List > Blocked Keywords.
b) 4-step Core Filtering: Stricter screening methods shall be applied to probable junk mails, which cannot be categorized as good mail or spam after the 4-step primary filtering.
Constant and free updates
As for Lockspam Free version, only Polesoft Security Pack and Polesoft Anti-spam Engine are available for free updates. For Lockspam Pro version, the entire 4-step core filtering engines an be updated for free, and protect your mail box safe and sound.
Settable Filtering Level
Select High/Medium/Low Filtering Level to your need for protection.



Accuracy:


Over 90% PSK (Percentage of Spam Mail Killed) based on Near-Zero PIK (Percentage of Innocent Mail Killed).
By analyzing the spectrum of the Email's content, Lockspam hits the Aschille's Heel of the spam so as to assure its accuracy.



Self-adaptive protection: Automated filtering and live updating


Automatically imports Allowed List from all of your Mail Clients, right after installation.
Automatically filters incoming mails and spontaneously learn the rules to judge spam from good mails by itself.
Polesoft server has the newest spam resources. Therefore live update of Lockspam could guarantee your mailbox up-to-date to the realtime spam.
Polesoft Anitspam Engine will optimize itself by continuously self-learning your local mails and provide personalized protection with more and more perfect algorithms.



Easiness: Easy installation and maintenance to save your valuable time


Ease of Installation: Lockspam is seamlessly integrated into Microsoft Outlook. It operates right after installation without account setting necessary.
Ease of Maintenance: Completely automated spam filter. No manual rules needed.
Easy-to-use functions like Block a spam and Unblock a good mail.
Easy-to-understand Options that needs no tedious manual settings.
Easy to get Help from Polesoft Support.



Multiplex


Multi Mail Clients
Multi Mail Accounts
Multi-lingual Interface
Recognize Virus Mail Attachments



Error tracking log files


When an error occurs, Lockspam will automatically generate log files to keep records of it, so that the users will know the solution to the problem within a day after sending those log files as attachments to Polesoft support at support@polesoft.com



Data backup


Lockspam allows its users to backup their personal data, like Whitelist, Blacklist and General Settings in the Options.



Editable Allowed list/Blocked list


Each time activated Lockspam checks against the addresses in the Allowed list and Blocked list, making sure that spam killed and innocent protected. In answer to the repeated voices of Lockspam users, Polesoft has newly developed an editable Blocked list, where users can add, edit or remove the list of unwanted mail sources. Likewise, an editable Allowed list is a list of addresses that users want to hear from. Both Blacklist and Allowed list can be backed up and restored by the button of Export and Import.
Lockspam Pro 3.0 is available and it will benefit you as follows:
Easy to use and easy to get help.
No annoying manual rule creation.
No worry on miskilling innocent mails.
8-step filtering process that safely singles out spam from good mails.
Comprehensive protection for your privacy, communication and business.
Effectively time-and-energy-saving.
Live and constant update that assure your mailbox is against the latest spam (Registered Only).
Mail Addresses and Keywords make sure good mails will not be wronged and junk mail cannot get away with it.