Keywarden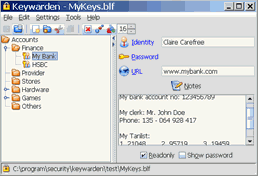 Keywarden is an easy-to-use and highly secure password manager which stores your different passwords, login-information, credit card numbers and other security related data in a clearly arranged place. Keywarden optimally protects your data with the generally accepted Blowfish encryption. As there is no known way to break this encryption, not even an intelligence service will be able to read your passwords.
Your advantage with this: You simply use a single master password to access all your different passwords. You only need to remember this single password!

Download Trial 385 KB
Software Information
System Requirements
Version:
1.4

Windows 8/7/XP/Vista
Pentium processor
512 MB RAM

File Size:
385 KB
License:
Free to try
Screenshot:
View Screenshot
Rating:
Key Features of Keywarden:
Security: Keywarden uses the highly secure Blowfish-encryption with a key strength of up to 448 bit. There is no known way to decrypt the files encrypted with Keywarden without knowing the password.
Platform independence: Keywarden runs on all platforms which support the Java 2 Standard Edition (J2SE) Runtime (JRE) departing from version 1.4 or higher. These are all major operating systems - such as Windows, Linux, Solaris, Mac OS, ...
No installation necessary: Keywarden runs out of the box from any directory and does not need to be installed. The comfortable installation by a setup program under windows is also possible.
Mobility: Since Keywarden has no need of an installation, it is ideally suited to be copied onto a mobile data storage (e.g. USB-stick, 3,5"-disk, CD etc.). Use Keywarden at home on your Windows-PC and take it per USB-stick with you to your company and launch it under Linux!
Tree view: Keywarden offers an arbitrarily customizable tree structure in which folders and accounts form a hierarchy - similar to directories and files in the file system. Folders and account can therefore be easily accessed.
Undo/Redo: All important text input fields employ an undo/redo function of up to 100 steps.
Notes: Each account may have an arbitrary note of unlimited length. This possibility is ideally suited for easily storing confirmation emails of new online accounts.
Export via XML: Keywarden allows export of account information in the universal XML file format. This allows to use the data within other programs.
Browser integration: A single mouse click on the URL of an account leads you to the corresponding internet site.
Privacy: The password can be hidden so that occasional observers cannot have a look at it. It can easily be copied to the clipboard with a mouse click while being invisible at the same time.
Password generator: You are tired of frequently inventing new passwords? Upon pressing a button, Keywarden creates a new password for you which no one is able to guess - and which you luckily do not have to remember thanks to Keywarden. The string created by the password generator has other uses as well, e.g. as identity or e-mail address with guaranteed anonymity.
Customizable Look & Feel: Look and feel of Keywarden can be set to your preference. Choose between the Java built-in look Metal, Motif/CDE and Windows.
Protection against loss of data: Unintended modification of account information can be prevented with a switch. Changed data is automatically saved upon termination.
Windows launcher: Just as common under Windows, Keywarden launches as .exe-program. If Java already is installed, no further configuration is necessary.
Multiple languages: At the time being, Keywarden supports the languages English and German. The language can be changed while Keywarden is running without the need of a restart.