iRecordMusic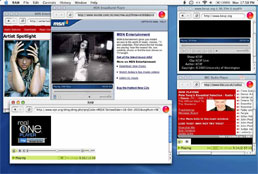 iRecordMusic is an easy to use Internet audio recorder for Mac OS X.
One-click audio recording.
Record audio as MP3 and MP4 (AAC), suitable for playback on an iPod.
Supports broadcasts in RealAudio and WindowsMedia, the preferred audio formats of many radio stations.
Works with both iTunes and iCal. With it you can create & insert a scheduled recording event into iCal and sync up the iRecordMusic calendar with other calendars found on the web.
Fun for all the family! Record music, sports and news at the same time!



Download Trial 3.69 MB
Software Information
System Requirements
Version:
1.5 build 49

- Mac OS X 10.2.8 - 10.4
- RealPlayer 10 (for RealAudio support)
- WindowsMedia Player 9
- iCal 1.5.5 or greater (for scheduling)
- iTunes 4.0 or greater
- Safari 1.0 or greater
- QuickTime 6.4 or greater
- LAME MP3 Encoder (for real-time MP3 encoding)


File Size:
3.69 MB
License:
Free to try, $24.95 to buy
Screenshot:
View Screenshot
Rating:
Fabulous Features of iRecordMusic:
Record Internet audio as MP3, AAC (bookmarkable), Apple Lossless and AIFF. All recordings are iPod compatible.
Record audio that you listen to, even from streaming movies.
Real-Time encodingNEW to Ogg Vorbis, Lame MP3* and FLAC.
Schedule recordings with iCal and share calendars online.
iTunes playlist and tagging support.
Support for audio content broadcast in:

RealAudio / RealVideo
WindowsMedia
QuickTime media
Flash web content
MP3, M3U, EXTM3U streaming net radio
Midi web sounds

Make multiple recordings at the same time.
What Means For You, With iRecordMusic?
More time to do what you want. Use iRecordMusic to "time-shift" broadcasts for later listening, whenever and wherever you want.
Easy to use browser interface makes iRecordMusic suitable for the whole family. Surf, Listen, Record!
Mixtape Mania. Bring back the fun of tape-decks, boomboxes, and fingers at the ready. Record your favourite sounds and throw them into iTunes.
Freedom. Record audio and still do things like listen to music with iTunes, or watch QuickTime movies. Your workflow is safe. Not all recording solutions allow this.
Beep Beep! Record safe in the knowledge that system beeps, iChat blings won't interrupt your recordings.
Future-proof. Benefit from any improvements to Apple's Safari engine, and third-party Internet plug-ins.
Juggling skills not required. One application, iRecordMusic, is all you need. Don't worry about juggling different applications and writing technical scripts just to make a single recording.
Software Magic. No extra hardware or system hacks required. Just software that works with the technology already installed on your Mac. Simple really.
RELATED SOFTWARE DOWNLOADS