Tutorial - how to turn your PC into a multi region DVD player?

The aim of this tutorial is quite simple - it is here to help you make your PC-DVD system region-free, and play DVDs from all regions on your computer, so you will be able to playback DVDs you have legally purchsed from anywhere around the world.

Using DVD Region Master to play DVDs from all regions is extremely easy and can be done in three simple steps. To turn your PC into a multi region DVD player, please do according to the following steps :

Step 1. Download the multi region DVD player software from DVD Region Master Product Page , and doubleclick to begin installation It on your PC.

Step 2: After installation, insert the DVD that you want to watch, run DVD Region Master, select region of the DVD disc, and click apply button.
You can see the interface as follows: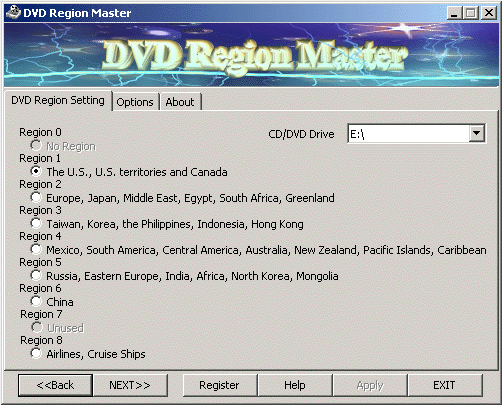 Step 3: Run the DVD Player on your computer, enjoy watching the DVD of your choice - and forget about which DVD region it came from!

Order DVD Region Master Now for only $39.95 - turn your PC into a multi region DVD player!


We hope you enjoy this guide.





Related Article and Guides:
How to Convert DVD Movies to iPod Format
How to Organize Your iPod?
How to Copy Music from iPod to the Computer?
How to Make an iPod Cover?
How to Record on an iPod for Free?
How to convert M4P files from Apple's iTunes store that are DRM protected to MP3.
How to Rip DVD Movie to iPod Video Format
How to convert DRM video clips like WMA, M4P, M4B, M4V, iTunes files
Guide to Record LP to CD and Record Tape to CD
How do I rip vinyl albums to my PC computer, CD, MP3 or iTunes/iPod?
M4P Converter Tutorials - Convert M4P to MP3, M4P to AAC, M4P to WMA
M4B Converter Tutorials - Convert M4B to MP3
How to rip DVD movie to Zune video format and the easy way to put DVD on Zune.
Itunes to MP3 Converter - Convert Itunes to MP3
How to Convert and Copy DVD Movies to PSP