How to Convert Video files to iPod Format Using Super iPod Video Converter:


Step 1. Download the fastest video iPod converter software Super Video to iPod Converter from BestShareware.net ,and install it on your PCs.

Step 2. Launch Super Video to iPod Converter.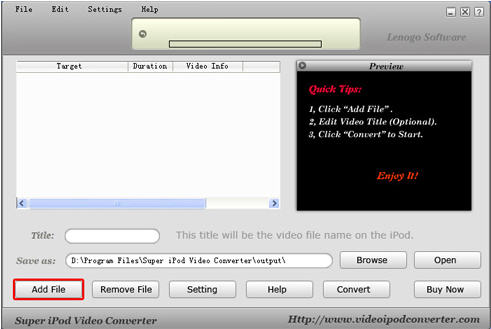 Step 3. Click "Add File" button and you'll see a dialog below. If you want to see the full list of all supported video formats, the check the "Advanced Mode (for more video formats)" checkbox. Select the video file you want to convert, and click "Open" button.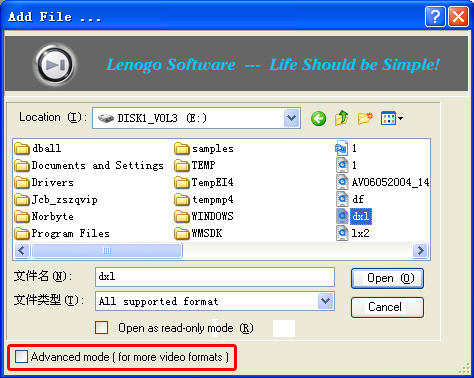 Step 4. This dialog shows the contents table of the the movies to be converted.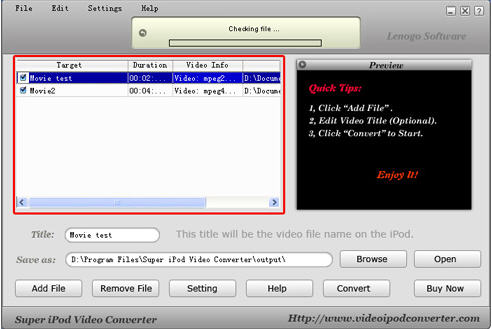 Step 5. You may need to change the video title. To do this, put your desired name into the "Title" edit box. This will be the file name in your iPod.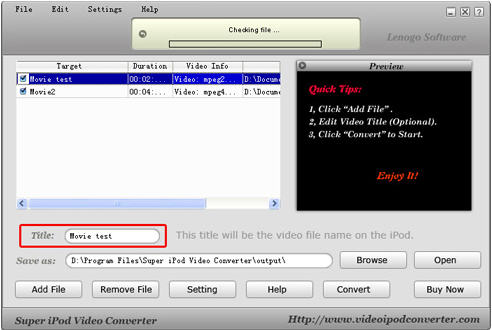 Step 6. "Save as" is used to save the converted file to a folder in the hard disc. Click "Browse" button to change the default folder.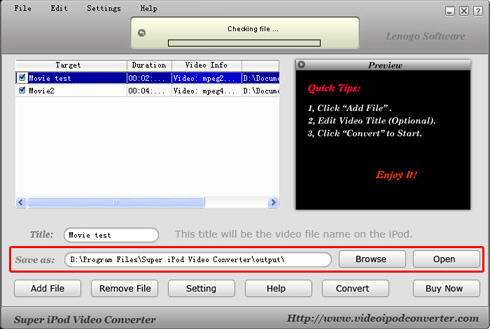 Step 7. Now click "Convert" to start converting. The display on the top shows the converting progress. You may also preview the video in the Preview Display on the right.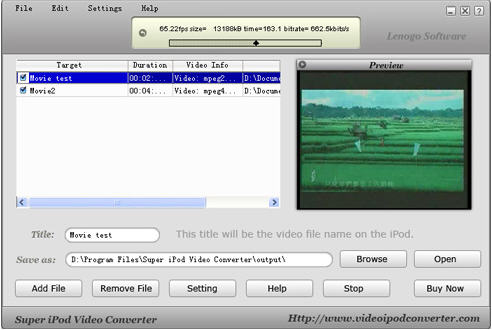 Step 8. When the conversion is completed, the folder where you save the converted file automatically opens (you may also open the folder using menu "Edit -> Open Output Folder"). If you will convert another video file, select menu "Edit -> Remove All", and then go to the step 4.

Step 9. Launch iTune and choose "File -> Add File to Library". Choose the .mp4 file you have created. Load it on your iPod and start enjoy your movie now!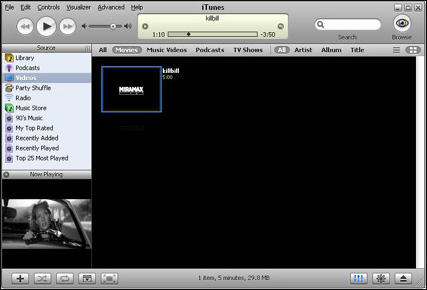 Notes for veterans:

We offer a wide range of advanced options for veterans. E.g. you may choose to convert any segment of a video file; you may adjust video and audio properties. Just click "Settings" button for more choice.





Related Article and Guides:
How to Convert DVD Movies to iPod Format
How to Organize Your iPod?
How to Copy Music from iPod to the Computer?
How to Make an iPod Cover?
How to Record on an iPod for Free?
How to convert M4P files from Apple's iTunes store that are DRM protected to MP3.
How to Rip DVD Movie to iPod Video Format
How to convert DRM video clips like WMA, M4P, M4B, M4V, iTunes files
Guide to Record LP to CD and Record Tape to CD
How do I rip vinyl albums to my PC computer, CD, MP3 or iTunes/iPod?
M4P Converter Tutorials - Convert M4P to MP3, M4P to AAC, M4P to WMA
How to rip DVD movie to Zune video format and the easy way to put DVD on Zune.
Itunes to MP3 Converter - Convert Itunes to MP3
How to Convert and Copy DVD Movies to PSP