How to rip DVD to other portable video players?

This article will show you how to rip DVD to other portable video players.


Required software:
AVS Video Tools

Required device:
A portable device capable of video playback with a computer compatible cable.


AVS Video Converter enables you to transfer your home video DVD library to a necessary format with a few mouse clicks. rip DVD to other portable video players, please do according to the following steps :

Step 1: Download and install AVS Video Tools

Click here to download it. After the download is finished, run the AVSVideoTools.exe file and follow the installation wizard instructions.

Step 2: Run AVS Video Tools and select your input video file

To select a video you would like to convert hit the Browse... button next to File Name Field. In the opened Windows Explorer Window browse for necessary DVD folder: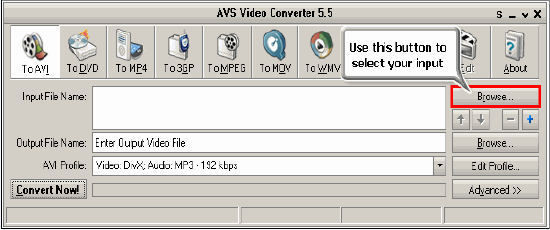 NOTE! When your input is a DVD Disc, you will need to select the path to your source file: X:\Video_TS\Video_TS.IFO. "X" stands for your DVD-ROM or the hard disk drive folder where your DVD is stored: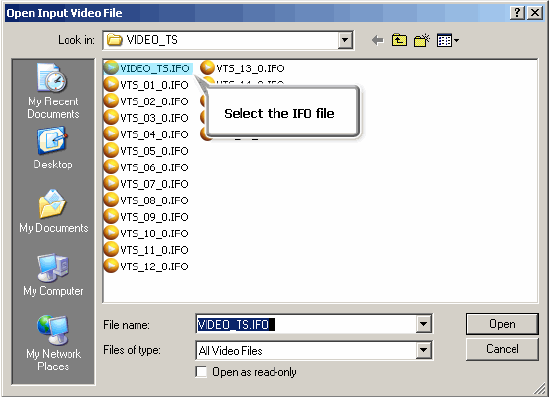 It is important to select the IFO file, rather than VOB file, because the IFO file contains the information about the entire DVD structure and this way you will avoid audio and video de-synch problems when converting. Also, most DVDs have several VOB files (files with actual video)and if you convert VOBs instead of IFO, you will have to merge them afterwards, which is not the case with the IFO files.

Step 3: Set up the conversion parameters

After you have selected the video input file, click one of the following buttons placed along the top of the interface:
To AVI for supporting the following formats: Archos, Creative Zen Vision, MPEG 4, H.264/AVC; Video for YouTube, MySpace and Google Video.
To MP4 for Apple iPod, Sony PSP, Epson P-2000/4000 or mobile phones with MPEG 4 video support;
To 3GP for mobile phones with 3GPP and 3GP2 video support;
To WMV for Pocket PCs running under Mobile Windows OS, like HP iPaq and portable players: Archos and Creative Zen Vision.
In the list of Profiles (... Profile Field) select one of the profiles offered for the chosen type of portable device. You can also click Edit Profile button to manually set the profile parameters.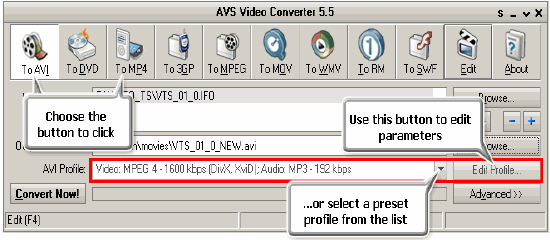 Step 4: Set up a proper video output file path

Click the Browse... button next to Output File Name field and select a location on your HDD for the output video file.

NOTE! When you select a location for your output video file, you should save the file to your personal computer HDD.

Step 5: Convert your DVD files

After you have set up all the conversion parameters, hit the Convert Now! button to start converting.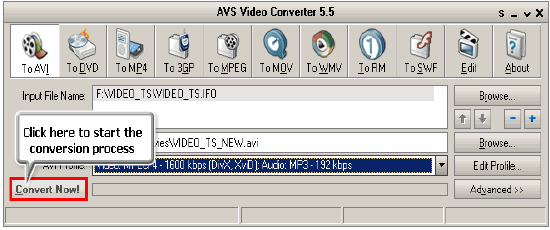 You can visually judge the DVD conversion process if you hit the Advanced>> button twice.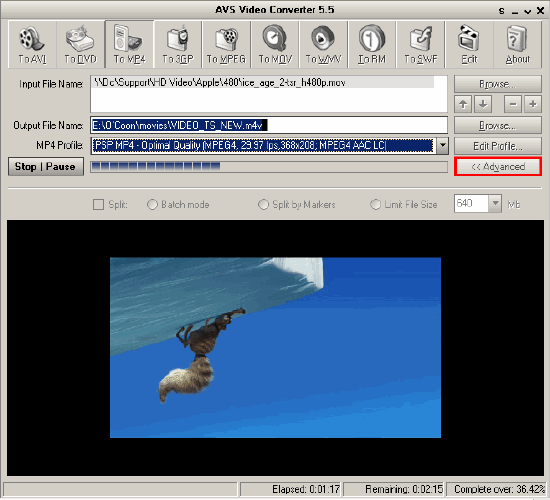 The result of the conversion should be a video file with an extension supported by your portable player that can be transferred to your portable with the help of the AVS Uploader service. It will be launched automatically when the conversion process is over.

Step 6: Transfer the converted video file to your portable video player

Connect your portable device to your computer with the help of a cable. Turn on the device.

The AVS Uploader service application will be launched to guide you through the upload process so that you could send your converted video file to your portable with no difficulty.

If your portable player is not displayed in the AVS service window you should press the Find Devices button to search for it: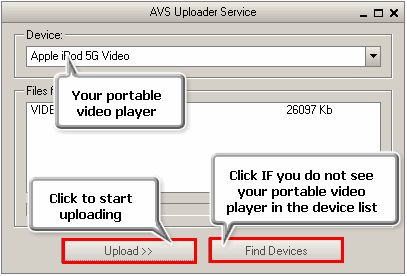 When you click the Upload>> button the upload process itself will take place. It will take some time depending on the output video file size.

Now you can enjoy your favorite home video DVD and video files on your portable video player!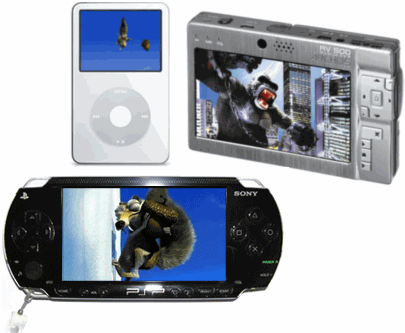 We hope you enjoy this guide!






Related Article and Guides:
How to Rip DVD Movie to iPod Video Format
How to rip DVD movie to Zune video format and the easy way to put DVD on Zune.
How to convert video for a web-page
How To Convert Mp4 to Mp3
How to convert RA to WMA
How to convert contacts to an iPod
How to convert RMJ to MP3
how to convert from Eudora on the Mac to any format
How to merge several video files into a single file
How to split a DVD into chapters
How to write video DVD folder to DVD
How to convert between all popular video formats