How to Remove Zip Password - Typical Workflow


How To Remove Zip Password - Typical Workflow? Where to find a better Remove Zip Password tools? This great tool is amazingly fast, capable of testing more than 4,500,000 ZIP passwords/sec on a Pentium III.
Free Download Trial is available. I hope this guide will be helpful for you.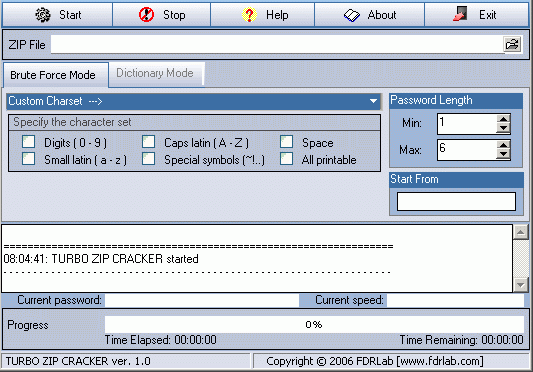 Typical workflow with Zip Password Tool implies the following steps:


1. Selecting ZIP file

Use "Browse"

button to select ZIP/SFX-ZIP archive You'd like to get the password for.





2. Selecting search method and setting the options

Turbo ZIP Cracker supports following search methods:
Brute-force attack
Dictionary based attack



Brute-force method tries all possible passwords, which are generated using a given set of characters. Setting of the Brute-force mode options is described in the Brute-Force Attack section.

The Dictionary-search mode is similar to Brute-force mode. But in this case the passwords will be read from a dictionary file. Setting of the Dictionary mode options is described in the Dictionary Search section.

3. Recovery process and getting the results

Click on the "Start" button to start zip password recovery process.





There are 3 fields at the bottom of the program's window, that shows the state of the password recovery process. These are the "current password", the "current speed" and the recovery progress bar with elapsed and remaining time.





You can interrupt the recovery process at any time by pressing the "Stop" button and resume its execution later from the same point.





When the recovery process is finished, the results of the search will be displayed in the message log. The possible results are "Password is…" or "Process finished. Password is not found".






Download Zip Password Tool free trial version to test it with your zip files!





Related Article and Tutorials:

How to convert .LQT audio files to .MP3 format?
How to erase or clean Index.dat files?
How to delete cookies?
How to delete history?
How to create an album?
How to publish the album to the web?
How to Morph AVI Videos?
How to Create Warp Movies?
How to create a panorama?
How to shoot photos for a panorama?
How to delete Temporary Internet Files?
How to print from DOS programs to USB, GDI, Virtual and other Windows-Only printers?