How to write video DVD folder to DVD?

This article will show you How to write video DVD folder to DVD.

Required software: AVS DVD Copy


AVS DVD Copy interface is very simple. You can make all actions in the same window: select an output drive, add files and folders to be written to DVD or CD and erase data from not-empty discs. As soon as you are ready just click the Start burning! button to write files to DVD.

Here are Step-by-step Guide:

Step 1: Download and install AVS DVD Copy .

Click here to download it. After the download is finished, run the AVSDVDCopy.exe file and follow the installation wizard instructions.

Step 2: Run AVS DVD Copy and select the disc drive

Click the Burn DVD button along the top of the interface. Then select the disc drive in case you have several drives.




Step 3: Add files and folders

Click Add DVD-video button. In the new window select a VIDEO_TS folder you want to write.

Now to add the folder you can:
drag-and-drop it to the main window
OR click the right mouse button and select the Add point from the menu
OR just click the Add button.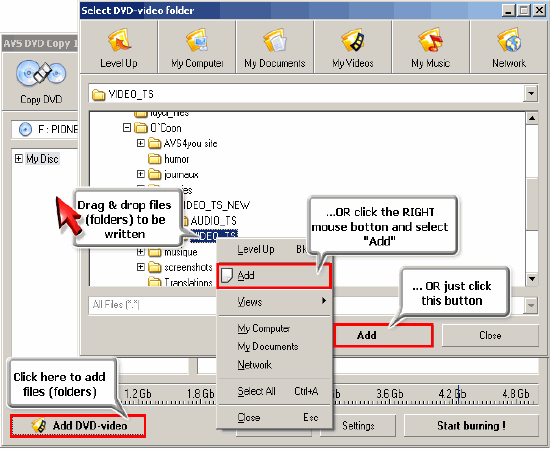 Note: On the disc size meter along the bottom of the interface you can see the size of added files.

Step 4: Insert disc. Erase, if not empty

Insert a DVD disc into the drive.
If it is not empty, click the Erase button along the bottom of the interface. Select "Quick erase", then click the Erase button in the new window. Wait a minute to complete erasing. Close this window.
Note: If you don't do not erase a not-empty disc, AVS DVD Copy will delete all files from this disc before writing DVD folder to this disc.

Step 5: Write files to DVD

Now click the Start burning! button in the right bottom corner of the interface.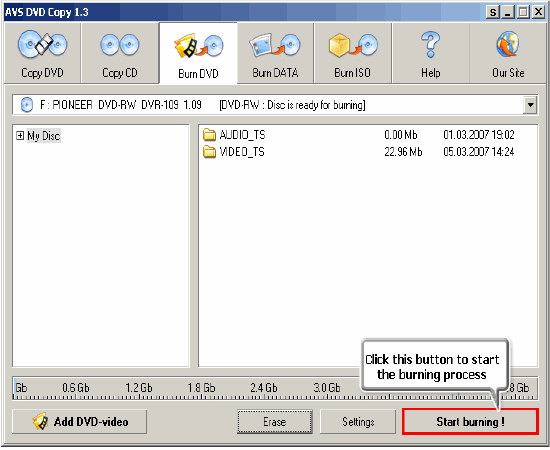 That's all. Your DVD will be ready in several minutes!






Related Article and Guides:
How to convert RMJ to MP3
How to split a DVD into chapters
How To Bluetooth MP3s to Your Phone
How to Transfer SMS from iPhone to Computer
How to put Contacts in Outlook in their own folder
How to convert between all popular video formats
Tutorial - how to convert dvd to sansa
How to rip DVD to other portable video players
How to convert video for a web-page
How To Convert Mp4 to Mp3
How to merge several video files into a single file