How to record Web Audio using Freecorder?


Freecorder is a free software that lets you download, record and convert all kinds of Internet Video and Audio, right from within your Internet Explorer or Firefox browser.

Freecorder's record Audio feature acts just like a tape recorder. Anything you are listening to can be captured in real time - as you listen.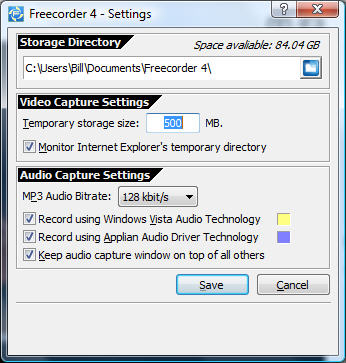 Tips:

Storage Directory

This is where your saved video and audio files are placed.

Audio Capture Settings

MP3 Audio Bit rate: This specifies the quality and size of recorded audio files. The larger the number, the better the quality, and the larger the file. Most Web audio is not streamed at a quality higher than 128 Kbps, so increasing this setting won't make lousy audio files sound any better.
Freecorder 4 has two different audio recording technologies. If you get multiple copies of an audio file when recording, you can enable or disable them using these settings:
Record using Windows Vista Audio Technology: Specific to Windows Vista, this method is most reliable for Vista users. This has no effect on XP machines.
Record using Applian Audio Driver Technology: This method will work on 99% of machines. If the other method isn't always working, or if you are using Window XP or 2000, make sure this method is selected.
Here's how to record web audio using Freecorder:

Step1. Click the Record Audio button

. The Audio Recording window appears: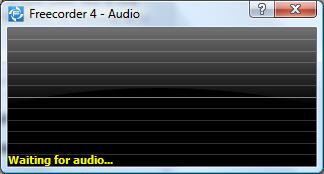 Step2. Play your audio. You'll see the wavy lines in the audio recording window move. This indicates that Freecorder 4 is able to "hear" the audio you want saved.

Step3. When you're finished, hover over the recording window and click the Stop Recording button.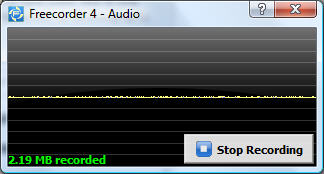 Step4. The Recorded Audio window appears showing your recording: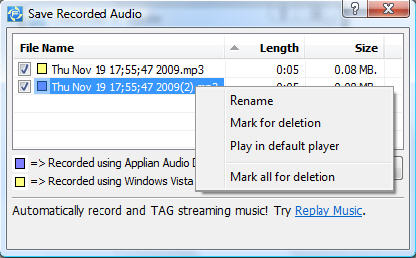 In many cases, you'll get two copies of a recording, depending upon how you've configured the Audio Capture Settings.
Check the recording you'd like to save, and click Close. The MP3 file is saved to your Storage Directory.

Hint: Right-click on any recording to see more options: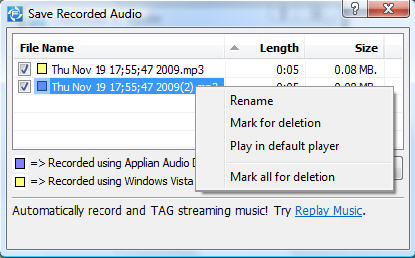 Download Trial 8.09 MB

Related Article and Guides:
How to convert Mod/Tod video to AVI?
How to convert FLV to iPhone?
How to download and convert YouTube videos to 3GP?
How to convert YouTube videos to MP4?
How to Convert M4V to AVI on Mac?
How to rip DVD to WMV on Mac for your iRiver player?
How to remove DRM from iTunes 9 on Mac?
How to convert AAC to MP3 on Mac OS X?
How to convert 3GP to AVI ?
How to convert RMVB to AVI on Mac?
How to remove region code from protected DVD?
How to convert YouTube to iPhone?
How to put video on iPod
How to rip DVD to iPod
How to Convert DVD Movies to iPod Format
How to convert AVI to iPod
5 Tips to Make Successful Video Conversion
How to convert WMA to MP3