How to extend system partition on Server 2003/2000/2008?




Why do we need to extend system partition?



As applications continue to be installed into the Windows system, suddenly one day find the system partition do not have enough free disk space, and when every time the system starts, Windows always prompts the following information:
You are running out of disk space on SYSTEM (C:), To free space on this drive by deleting old or unnecessary files, click here…





In this case, we have to delete the unwanted file to get a better free space in order to ensure the normal operation of Windows. However, deleting files is not the best way, because my system disk have a total of 250GB, the system boot partition (C:) is only 20GB, and 230GB was divided to data partition (D:), it is clear that (D:) space is large enough, and now the best approach is from the (D:) divide 60GB to (C:) to extend system partition, so that you can permanently solve the problem by using "Extend Partition". Here is the layout of my system disk before extend system volume as shown below:








Extend Partition Server Edition is a special designed to extend server partition. It's designed for system administrators and advanced users to manage both server and non-server disk partition to maximize server performance. With its help, you can easily perform an extending partition operation on Windows Server 2000/2003/2008 (32 bit and 64 bit) without data loss.

Download your free evaluation copy now and give it a try.

Download Now 1.40 MB



Step 1. Launch Extend Partition Server Edition, select "I just extend my system partition" option and click Next, skip welcome screen to enter into the right screenshot, and then select your partitions to take the free space from.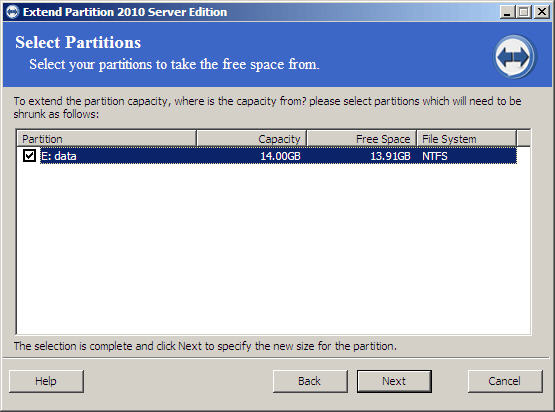 Step 2. Specify the new size of the partition that you are extending by moving the slider (for example, set a new size for C: drive).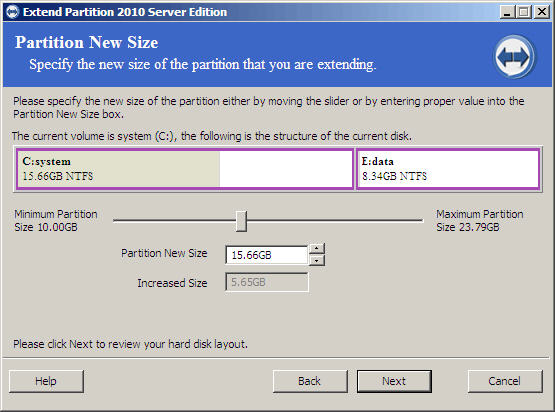 Step 3. Review the layout of the disk and confirm the operation, then click the Proceed button to begin extending system partition.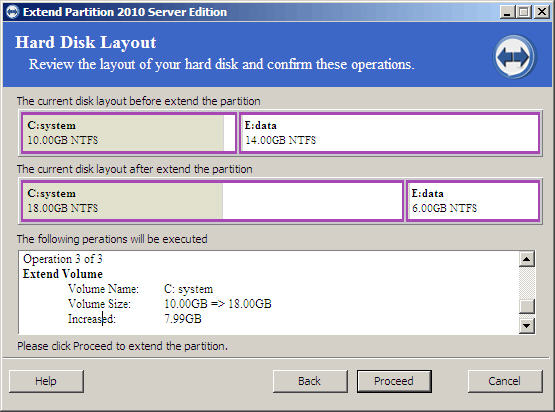 Step 4. Show the progress that the operation is being processed. You will receive a report when completing extending system partition.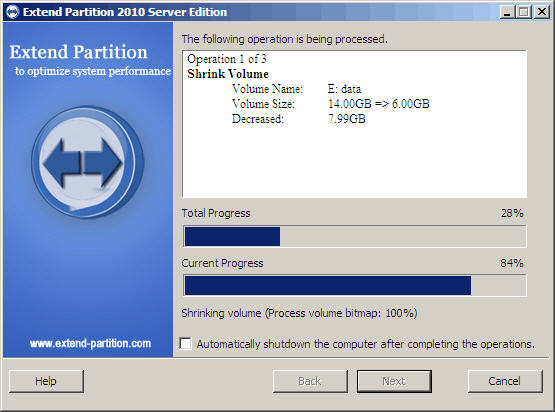 For more information, you can visit: Extend Partition Server Edition


Go to top




Related Article and Guides:
How to resize Windows Server 2008 partition?
How to convert FAT disks to NTFS?
How to resize a partition on Windows Server?
How to recover files from EXT2/EXT3 Drive?
How to Recover data from "Ghost" (or "image") hard disk drives by error?
How to Resize Windows 2003 Server Partitions?
How to print from BASIC DOS to USB, GDI and any Windows printer?