How to convert H.264 to AVI video files ?


What's H.264?
H.264 is known as MPEG4 AVC. H.264/AVC is the latest block-oriented motion-compensation-based codec standard developed by the ITU-T Video Coding Experts Group (VCEG) together with the ISO/IEC Moving Picture Experts Group (MPEG), and it was the product of a partnership effort known as the Joint Video Team (JVT). The ITU-T H.264 standard and the ISO/IEC MPEG-4 AVC standard (formally, ISO/IEC 14496-10 - MPEG-4 Part 10) are jointly maintained so that they have identical technical content.


What's AVI?
AVI stands for Audio Video Interleaved and developed by Microsoft.
An AVI file can use different codecs and formats so there is no set format for an AVI file unlike for example standard VCD video which sets a standard for resolution, bitrates, and codecs used. Most commonly used video codecs that use AVI structure are M-JPEG and DivX.


To convert H.264 video files on AVI files, we strongly recommend you 4Media HD Video Converter or Xilisoft HD Video Converter. It is a professional and easy to use video converter, which can helps you to convert H.264 to AVI format easily and fast. With it, you can convert a whole HD videos, or choose any segment you like by setting the start time and duration.
What's more, this software can convert H.264 to other video format expect AVI. Like WMV, MOV, DivX, RM, MP4, MPEG etc. are all supported as output format. And it also permits you to extract audio from the H.264 video and save them into MP3, AAC, wma, M4A etc. audio format.


Guide: How to convert H.264 to AVI with 4Media HD Video Converter


Step1: Install and run the software

After installing and running the software, you will see the main interface as below.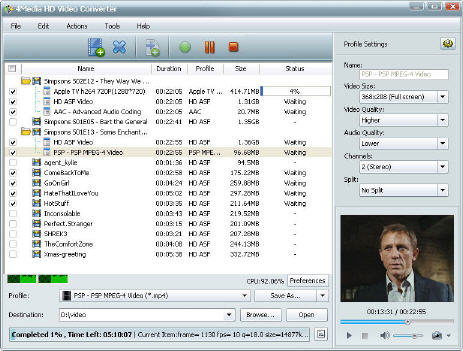 Step 2: Add the H.264 files you want to convert

Click "Add" button to select your H.264 video files in the dialog box that opens, and add them to the file list. And the converter allows you to add several files to convert at the same time.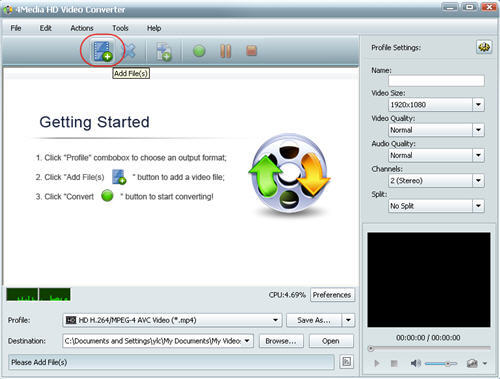 Step 3: Set output format as "AVI video"

In the profile drop down list, choose "AVI - Audio-Video Interleaved (*.avi)" format " in "General Video" category as output format. And there're prepared AVI format provided in the format list for Mobile Phone, PMP and Wii users.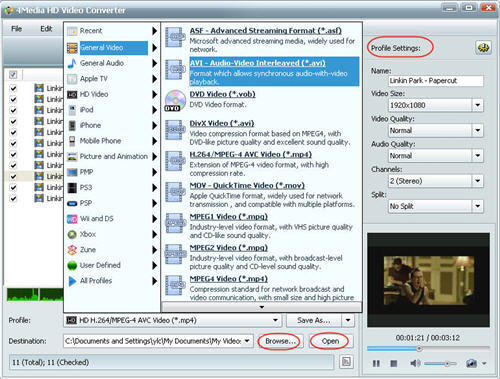 Step 4: Start the conversion

Just click the green "convert" button on toolbar to start the H.264 to AVI conversion.

Everything is done now. In a few minutes you will see the conversion has been finished. Then you can click "open" button to directly open the target folder and check the converted AVI videos. 4Media HD Video Converter makes the H.264 to AVI conversion easy to handle. And you can enjoy the AVI videos fluently now!


Visiting 4Media HD Video Converter to get more information about H.264 to AVI converter.




Related Article and Tutorials:

How to convert HD video on Mac OS X?
How to convert AVCHD to AVI?
How to convert HD video to SD?
How to convert H.264 to AVI video files?
How to Convert HLP to CHM Help file for Vista
How to fix blurred video?
How to convert between PAL and NTSC formats?
How to reduce the size of my video?
How to filter interlaced video?
How to remove mosaic from video?
How to remove pixellation from video?
How to enhance your video with EnhanceMovie?
How do I Recover deleted, missing or lost Logical Drives?
How do I recover files from formatted hard drives?
How do I recover fdisked drives?
How do I recover lost files from re-partitioned hard drive(s)?
How do I recover hard disks involving Scandisk and Chkdsk error?