Home Cookin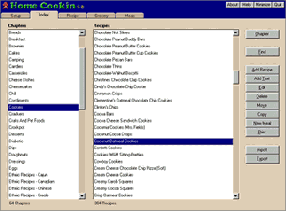 Home Cookin is an easy to use recipe database, grocery manager, and meal planning calendar with a friendly user interface, easy recipe entry, photo support, spell checking, features import and export capabilities. Imports Meal-Master, Mastercook, Big Oven, Cookbook Wizard, From Scratch, From My Kitchen, Living Cookbook, Now You're Cooking, Recipe Processor, and Computer Chef. Also has manual import for web pages, newsgroups, and other sources. Exports to Meal-Master and Mastercook. Fast and easy search functions, duplicate recipe finder, and a variety of flexible printing options. Includes an integrated meal planning calendar and grocery manager for preparing shopping lists.





Download Trial 1.74 MB
Software Information
System Requirements
Version:
6.46

Windows 7, Vista, and XP (32 and 64 bit)
Pentium or similar processor
64MB RAM

File Size:
1.74 MB
License:
Free to try, $34.95 to buy
Screenshot:
View Screenshot
Rating:
Home Cookin Features:
Easy to Use Interface
Home Cookin uses a simple tabbed interface that is easy to operate while providing all the features you use most. Within minutes you will be adding your own recipes, preparing grocery lists, and planning your meals for the upcoming weeks.
Easy Recipe Entry
Home Cookin uses free-form text entry for easier use and greater flexibility. When you add or edit a recipe, you just start typing. No complicated fields, no limits on the length or number of ingredients, and no restrictive entry rules. Format the recipe as you wish, check spelling with the spell checker, or resize the ingredients for any number of servings.
Photo Support
For even greater flexibility, Home Cookin lets you include a photo with each of your recipes. These can be used to show charts, how-to information, or simply to make your recipe more appealing.
Import and Export Capabilities
Thousands of free recipes can be found on web pages, newsgroups, and various mailing lists. You can easily add these to your collection by importing them into Home Cookin.
If you want to share recipes with friends or family, you can export recipes in a variety of formats including Mastercook and Meal-Master.
Search Capabilities
While you can usually find a recipe quickly by browsing through the index, it is often faster and easier to locate recipes using the Find feature.

Find recipes by title, ingredients, or directions.
Find recipes based on the ingredients you have available.
Find recipes with similar ingredients (i.e. walnuts, pecans, OR almonds).
Exclude recipes you are not interested in.
Search all chapters, or just the current chapter.

Duplicate Finder
As your recipe collection grows, you may end up with many similar recipes. This is especially common when importing recipes from public sources. Recipes may be renamed, ingredients reorganized, or the directions edited for clarity. But the recipes may otherwise be very similar.
The Locate Recipes function performs a statistical analysis of each recipe, and can locate similar recipes even when words are mispelled, ingredients or directions are in different orders, or the recipe titles are different. Once the similar recipes are located, you are given the opportunity to compare the matches and delete the ones you no longer want.
Flexible Printing
Home Cookin provides a variety of print formats so you can take your recipes with you. Print your favorites when you're ready to prepare them, or make simple cookbooks for your family and friends.
Meal Planning
The meal calendar makes it easy to plan your upcoming meals. Locate your desired recipes, then add them to the calendar. Add personal notes if you plan on eating out, want to indicate a holiday, or to reference recipes in other cookbooks.
Grocery Management
The Home Cookin grocery manager will make quick work of preparing your grocery shopping lists. Start a new list, select the items you need, and print. A cost estimate is calculated as you select each item, so you'll know ahead of time how much you'll be spending on your groceries.