HDX4 Player - Play MPEG4 video files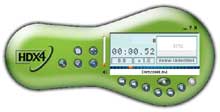 The "HDX4 Player" consists of the powerful HDX4 decoder and a video player which can not only playback MPEG4 videos but also a great number of common audio and video files. After having installed the player you will not only be able to play MPEG4 vieo files but also be able to play and open other container formats like MP4 as well as audio tracks encoded in MPEG-1 Layer 2, Ogg, AAC or AMR. HDX4 Player software is also compatible with Nero Digital, DivX and XviD.




Software Information
System Requirements
Version:
New version

Windows 8/7/XP/Vista
Pentium II CPU
512 MB RAM

File Size:
5.36 MB
License:
Free to try, $19.00 to buy
Rating :
HDX4 Player Features:
play MPEG4 video files
displaying movies windowed and fullscreen
zooming video windows
recently opened movies list with possibility of adding and deleting items. Adding movie files from a specified directory
auto-playing movies by playlist
auto-collecting information about video files to playlist
auto-loading subtitle text files in TMP and MicroDVD formats, included in video file, or from additional directory
replaceable skins
showing transparent and framed subtitles
auto-breaking long lines of subtitles text, centering text lines, time shifting for subtitles
controlling program through command line
controlling through keyboard
controlling through external program
controlling through external controller (joystick, gamepad, etc...
legible and simple user interface
HDX4 Codec FAQ
What is HDX4?
HDX4 is a MPEG-4 compatible video codec that makes it possible to store high-quality video in files that are significantly smaller than those used on DVDs.
Why should I use HDX4?
Well, we think there is a very good reason to use HDX4: We think it is the best and fastest available codec at the moment. Of course this is a personal assessment but we definitely think you should give HDX4 a try... ;-)
How can I encode in HDX4?
You can use our "HDX4 Movie Creator" but also any other DirectShow or VfW (Video for Windows) compatible software product.
Can I use the Windows Media Player to watch HDX4 compatible movies?
is compatible with any player supporting the DirectShow or Video for Windows interfaces. That inludes the Windows Media Player. I would like to watch a movie using HDX4, but I don't hear anything.
HDX4 is a video codec, no audio codec. We deliver several audio codecs with our installation packages but please take a look at our help center under "Audio formats" for more details.
What is this stuff like B-frames, GMC or quarter-pel?
...
Audio and video is out of sync when I play movies with HDX4. What can I do?
In the decoder of HDX4 there is a function called 'Force overlay mode'. Depending on the operating system and the DirectShow version you are using, please try to switch this function on or off.
What is 'Optimize for film source'?
This feature is a new and revolutionary, no other codec we are aware off has this at the moment. For your reference: Cinematic productions are filmed on celluloid and have a natural graininess. Depending on the film material experts can for instance still tell the difference between Super-8 and 35 mm material even on a DVD. Video without grain and with many single-colored areas can be encoded more easily but it looks less natural. You have to find out yourself what you like best. Just try encoding with and without simulated grain.
HDX4 Player FAQ
I don't like the skin of the HDX4 player. How can I change it?
Got to "Settings" and then to "Skins". Please choose there an other skin. From time to time we will add more skins there.