Handy Outlook Tools
Have you ever proudly composed a lengthy email in Outlook only to be disappointed to find it returned to your mailbox after you've sent it? It may be because you addressed it wrongly or made a mistake in the typing. In many cases you'll find characters all over the returned email which make it look second hand. You'll soon discover that the email is now "Read Only" which means you can't edit it, and it's not just a matter of resending it if you want it to keep its original appearance. Even if you copy and paste into a new form, you'll find unwanted characters everywhere.
There is an easy way to convert a SENT email to an UNSENT one, allowing you to edit it and send it just like new. Did you know that just a single line inside the email tells Outlook whether the email has already been sent or not? If you add "X-Unsent: 1" to the correct place in a sent email it will magically revert to an unsent one. Magically revert SENT to UNSENT emails with these Handy Outlook Tools.
Sorry, this product has been discontinued and is not available anymore.
Software Information
System Requirements
Version:
1.0.0

Windows 9x/Me/NT/2000/XP
Pentium or similar processor
64MB RAM

File Size:
10 KB
License:
Freeware
Rating:
Usages: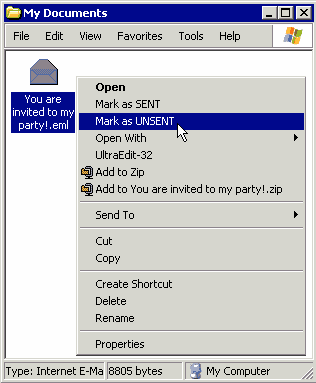 OPERATION
Once the files are installed, to convert a sent email to an unsent one (or vice-versa) you must first save it somewhere on your hard disk. Then right click it and select MARK AS UNSENT. Open it and it will appear to be an email under construction. You can make any changes you like then resend it in the normal way. A copy of it will then appear in the Outlook sent folder, just like normal. The template you are using will stay on your hard disk until you delete it.
INSTAL-UNINSTAL
Drag the five files into your Windows directory, then double click EML-Instal.reg to add extra options on the .EML context menu. It will add the choices MARK AS SENT and MARK AS UNSENT allowing you to mark any email saved to your hard disk as Sent or Unsent. To remove the registry entries when uninstalling, just run EML-UnInstal.reg before deleting the files. All the file names commence with "EML-" so they remain grouped together inside the windows directory.