Gammadyne Mailer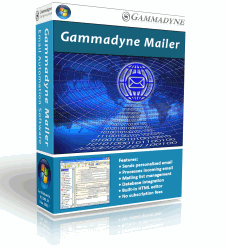 Gammadyne Mailer is a versatile and powerful email automation program designed to eliminate the drudge work of running email campaigns. The utility can send mass emails as well as process virtually any type of incoming email.
It can send personalized email to a list of recipients located in a database or text file. It can also receive and process email, including bounce-backs, sign-ups, and opt-outs. Gammadyne Mailer's unmatched set of features includes multi-tasking, direct delivery, list-serving, auto-responding, auto-forwarding, command line support, WYSIWYG HTML editing, exclusion lists, unlimited mailing list size, message preview, personalized attachments, recipient filtering, duplicate elimination, and much more. Advanced list management features make it easy to add, change, verify, and remove recipients in the mailing list.
Any business that deals with volumes of email can find numerous uses for this versatile tool. Gammadyne Mailer's stunning feature set makes it the indisputable king of email automation.





Software Information
System Requirements
Version:
37.1

Windows 7, 2000, XP, 2003, or Vista
A processor of at least 100 Mhz
32MB RAM

File Size:
8.75 MB
License:
Free to try, $120.00 to buy
Screenshot:
View Screenshot
Rating:

Gammadyne Mailer has an amazing set of features that will prove highly useful to any business that deals with large volumes of email.
It can personalize an outgoing email with database data. Simply enclose the database column name inside a set of double brackets.
Gammadyne Mailer integrates directly with virtually all databases, including Access, Centura SQLBase, dBASE, FoxPro, Oracle, MySQL, and SQL Server.
Gammadyne Mailer has the ability to send up to 256 emails simultaneously. This feature is known as "multi-threading" or "multi-tasking", and can greatly increase the speed of the send operation.
Gammadyne Mailer has the versatility to automatically process virtually any type of incoming email, including bounce-backs, sign-ups, and opt-outs.
Gammadyne Mailer can automatically detect images in the HTML body and embed them in the email, making the setup very simple.
Gammadyne Mailer contains numerous tools to help manage the mailing list, whether it is located in a database, text file, or in Gammadyne Mailer's internal list.
Direct delivery.
Gammadyne Mailer allows you to build custom user interfaces that can be used to influence the entire mailing. These custom windows can contain any arrangement of text, checkboxes, editboxes, and buttons.
Gammadyne Mailer can perform the duties of a List-Server (a.k.a. Discussion Group). When an incoming email is received, it is remailed (forwarded) to all members of the group.
Gammadyne Mailer allows the user to preview, edit, and delete emails before they are sent. The Preview Window displays exactly what is going out, and to whom. The Preview Window also permits manual personalization of select messages.
Gammadyne Mailer can be controlled from the command line (a.k.a. DOS prompt) to perform various tasks.
The feature "BCC Mode" is the ability of an email program to address a single outgoing email to multiple recipients.
Gammadyne Mailer allows the user to edit the HTML Body in a WYSIWYG editor (What You See Is What You Get). This allows the user to create an attractive email, complete with formatted text and graphical images, without having to know HTML.
Auto-Responding, Auto-Forwarding.
Works with all SMTP servers.
Load balancing over multiple SMTP servers.
Mailbox verification.
Recipient exclusion lists.
Duplicate elimination.
SMTP authentication.
Interoperable with third party programs.
Address Book integration.
Free upgrades for life, and no subscription fee!
It supports both 32-bit and 64-bit versions of Windows