FtpRight FTP Client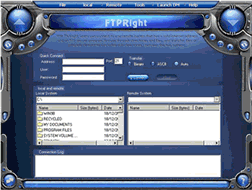 Transfer files easily using this intuitive and powerful FTP client for both advanced Web developers and novice users alike. FtpRight is a FTP client for Windows that lets you update a Web site with a single mouse click and resume interrupted downloads or uploads. It features an Explorer-like interface that is fully customizable and supports drag-and-drop functions. FtpRight is easy for beginners to use and has enough features to be useful to power users as well.

FtpRight features include support for new firewall/proxy and host types, SOCKS 4.0 and 5.0, Crash recovery--no more lost transfers due to power outages or system crashes, corrections to FTP servers for year 2000 compliance, Input Command, which allows you to directly input any command an FTP server supports, the ability to resume broken downloads; the ability to perform recursive downloads, uploads, and deletes., progress rate display, default transfer mode option in session parameters, prompts for file overwrites and preserving file date and time, a favorites list similar to that of Internet Explorer, background transfers, time-outs, the ability to delete to the Recycle Bin, port numbers, passive mode file transfers and file transfer Queue as well as the ability to synchronize local and remote directories.

FtpRight also includes Smart Reconnect--remembers your last connection info, transfer panes and advanced file-filtering parameters, a transfer Queue, and local/remote file/folder sysnchronization. FtpRight's Connection Manager comes preloaded with lots of popular FTP sites and adding your own FTP sites is easy.




Software Information
System Requirements
Version:
5.0

Windows 98/Me/NT/2000/XP
Internet Explorer 4.0 or higher
Pentium processor or similar
64 MB RAM

File Size:
5.34 MB
License:
Free to try, $28.00 to buy
Screenshot:
View Screenshot
Rating:
Why I need FTPRight ?
FTP& DM FtpRight allows you to upload files -- that is, copy files from your PC to other computers. For example, you would upload files if you need to place your Web pages on a computer system designated by your ISP (Internet Service Provider), or if you want to store a picture of something you want to sell through an online auction site.
How does FTP Work?
File Transfer Protocol uses the client-server model: one computer (the FTP Host) runs a server program "serving up" information to other computers. The other computers run client programs requesting information and receiving replies from the server.
FTP DM turns your PC into an FTP client, allowing it to communicate with virtually all types of FTP sites. When your PC is connected to the Internet (via a modem or local area network), FTP DM can connect to any system that has a valid Internet Address and contains an FTP server program. Once connected to an FTP site, you can download files, upload files, and copy files from one FTP site to another.
Main Features:
Drag and Drop Files and / or Folders or combinations, between Local and Remote Directories.
Resume downloads and Resume Uploads of files.
Resume Downloading:
FTPRight can resume downloading of incomplete files. This works with all FTP sites that support this feature.
Resume Uploading:
When transfer is broken during an upload, users may reconnect and resume at the point the transfer was broken. This feature is site dependent and is not supported by all servers.
Directory Upload and Download
FTPRight allows you to upload and download entire directory tree structures to and from the remote server. This feature makes the mirroring of Web sites easier.
Global Filter Masks
You can produce filtered listings (useful when trying to get a small piece of a large directory) by typing in a file extension or wildcard. You can filter results in local and/or remote panes with wild cards and filter file transfers recursively as well.
Right-Click Change File Attributes (CHMOD)
Brings up a graphical user interface for easy modification of file attributes.
"Firewall/Proxy" options settings.
Increased directory listing "speed" where some directories are VERY large.
Filtering options for uploads, downloads, sync folders, and server to server transfers.
Send the QUIT command when disconnecting.
Filtering support for Synchronize Folders sub directories.
The ability to sort by columns
"Resume All" option in overwrite confirmation dialog so that Resume can be applied to all files when overwriting.
"Skip All" option in overwrite confirmation dialog so that Skip can be applied to all files when overwriting.
"Overwrite All" option in overwrite confirmation dialog so that Overwrite can be applied to all files when overwriting.
"Cancel All" option in overwrite confirmation dialog so that Cancel can be applied to all files when overwriting.
By default Synchronize Folders starts in the selected local folder.
The ability to send any manual FTP command and view the response. This option is available from the Remote menu.
"Reconnect" to reconnect to the last connected site before a disconnect.
The "File Exists" warning dialog provides more information about the source and destination files. It now shows the date, time, and file size of both files. The dialog is patterned after the Windows 2000 over write confirmation dialog.
Web Registration
Selecting Manual Registration includes a link to FTPRight's Web page for online registration through a Web browser.
Keyboard shortcuts to pop-up menus.
Support for UserID = user@site proxy server password and user ID.
Support for "CheckPoint" proxy server/firewalls.
Support for "long file names" on Novell FTP servers.
And much more ...