FileCOPA FTP Server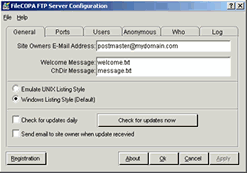 FileCOPA takes the hard work out of running an FTP Server. The FileCOPA FTP Server installs on any version of the Microsoft Windows operating system with just a few clicks of the mouse and automatically configures itself for anonymous operation.
FileCOPA FTP Server is ideal for business users who require a powerful and flexible FTP Server. FileCOPA has a user-friendly interface making managing an FTP server an absolute doddle.





Software Information
System Requirements
Version:
1.01

Windows 98/2000/ME/NT4/XP/2003 or Vista
Pentium or similar processor
128MB RAM

File Size:
1.36 MB
License:
Free to try, $120.00 to buy
Screenshot:
View Screenshot
Rating:
FileCOPA FTP Server's Advantages:
Passive FTP Support
The FileCOPA FTP Server fully supports passive FTP connections. Passive FTP is of great benefit to customers who are likely to connect to you through a firewall. Most FTP client software defaults to passive use now making it easier for the user to connect, without an FTP server that supports passive FTP these users are going to be locked out.
Passive FTP Port Range Configuration
While passive FTP is great for FTP client users (the people who are connecting to you), it can be a nightmare for the FTP Server administrator. Passive FTP usually assumes all incoming TCP ports are open, but this could make your system very insecure. The FileCOPA FTP Server allows you to limit which ports will be used for Passive FTP connections. Armed with this information you can just open the limited number of ports on your firewall, allowing you to keep your system safe and secure.
Advance Passive FTP Router Configuration
The FileCOPA FTP Server can be configured to report your routers IP address for passive FTP transfers. This allows you to successfully run the FTP Server on a private address behind your router/firewall. Connecting clients will be supplied your public/router IP address to connect to rather than the private address the server is running on.
NT Service
On NT based systems (Windows NT/2000/XP/2003 and Vista) the FileCOPA FTP Server runs as a system service. This adds to your security and ensures that your FTP Server is always running, regardless of which user is logged into your system.
W3C Log Files
The FileCOPA FTP Server can produce log files in the industry standard W3C log file format meaning that your log files can be interpreted by numerous third part log analysers.
Live WHO
The FileCOPA FTP Server provides a live lookup of who is connected and what they are doing. The list is automatically refreshed every 10 seconds, or can be refreshed by simply clicking the refresh button.
Unlimited Users
FileCOPA can be configured with an unlimited number of users. Each user can be given their own private directory, or can share a directory with other users.
Anonymous FTP
When FileCOPA is initially installed it will automatically be configured with anonymous user access. Traditional incoming folders are automatically created and access rights are ristricted in the traditional manner. Files can only be inserted into the incoming folder and files cannot be downloaded from here adding to your security.
RFC Compliance
The FileCOPA FTP server conforms to the current FTP RFC's.
More ...