eyeBeam for Mac OS X and Windows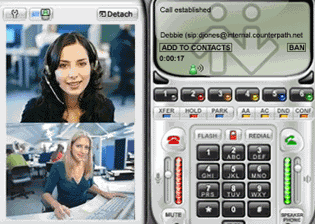 eyeBeam is CounterPath's Video SIP softphone application for Mac and Win PC. Supporting open standards for VoIP, Video and Instant Messaging.
eyeBeam 1.5 is a next generation telephony client designed to enhance the user's communications experience in Voice over IP. Whether you are a consumer or Small Office/Home Office (SOHO) user, eyeBeam allows you to stay connected and manage your calls and availability with a comprehensive suite of carrier-grade Voice, Video, IM and Presence features.
Based on open standards, eyeBeam 1.5 uses a telephone centric interface to allow users to manage their voice, video, IM and presence applications on their desktop solution. With this intuitive & familiar interface, users can seamlessly transition from a traditional hard phone environment into the world of Voice over IP. Also by making the navigation simple and user friendly, eyeBeam provides its growing community of users with easy access to video and contact management. Whether its users are having a simple voice conversation or hosting a conference call with multiple collaborative applications, eyeBeam offers users the ability to personalize their client and manage their availability from their SIP end-point.



Buy Now $33.75 USD
Software Information
System Requirements
Version:
1.5.20.1

MAC Required:
Mac OS X 10.3.9 or later
128 MB of RAM
PC Required:
Windows 9x/Me/NT/2000/XP Pentium or similar processor 64MB RAM

License:
Free to try, $33.95 to buy
Screenshot:
View Screenshot
Rating:
Main Benefits:
Intuitive & familiar interface is simple to use.
Easy access to video and contacts via sliding drawers.
"Tree" menu for easy navigation.
Small Installer Footprint [Under 3MB].
CounterPath's Rapid Branding process reduces time to market for Co-branding and Private Label.
SDK reduces time to market for complete application integration or development.
Telephony Features:
Record Audio Mix
Acoustic Echo Cancellation [AEC]
Message Waiting Indicator
Audio Tuning Wizard
Touch-tones [RFC 2833, in-band, out of band & INFO DTMF]
Automatic Gain Control
Audio Concealment
Adaptive Jitter Buffer
Voice Activity Detection
Microphone & Speaker Device Selector
Advanced Codec Settings
Call Forwarding URI/URL
Voicemail URL
10 Party Conferencing [IP & PSTN]
Speakerphone [Uses AEC]
Auto-conference
Dial/Redial/Hang up

Flash
Auto-answer
Caller ID [SIP ID]
Call Timer
Silence Threshold
Backspace/Clear/Delete
Mute
Microphone & Speakers Levels
Microphone & Speakers Meters
Sound Device Selection
Direct IP to IP Calling
Speed Dial
Line Hold
Line Transfer
Do Not Disturb
Inbound Call 'Ignore'
Inbound Call 'Go to Voicemail'
Narrowband Codec Selection
G.711, iLBC, Speex, GSM, G.723.1, G.726, G.729a & EVRC
Wideband Codec Selection
Speex, L16, DV14, G.722.2 (AMR-WB)
Video Features:
Record Video
Detachable Sliding Drawer
Point to Point [IP to IP]
Via SIP Proxy
Transfer
Hold
Privacy [Start/Stop Sending Video]
Video Conferencing [At the endpoint]

Camera Settings
Codec Selection [Basic H.263,H.263+,H.263++CIF etc.]
Image Size Settings
Video Quality Settings
Key-frame Transmission Rate
Video Synchronization Tool
Video Tuning Wizard
Presence & Instant Messenging Features:
Instant Messenger with Presence Support
SIMPLE, XCAP & WebDAV
IM Pager Model (SIP MESSAGE)
IM Typing Notification
Presence (SIMPLE Presence Event Package)
Presence (SIMPLE Event List for Presence Event Package)
Presence (SIP PUBLISH of Client Presence State)
Presence (WINFO watcher.info)
XCAP (Server-side contact list,white list, black list)
XCAP (Conditional and Partial Document Update and Retrieval)
XCAP (SUBSCRIBE to sip-config for XCAP document change notifications)
Local and Remote Buddy List Mgt.
Contact List Features:
Detachable Sliding Drawer
Add Received, Dialed or Missed Call as New Contact
Add New Group

Ban Contact
Delete Contact
Edit Contact
Network Features:
SIP TCP Support
SIP UDP Support
Multiple SIP Accounts [10+]
Multiple 6 Lines
NAT Traversal using STUN, ICE & Xtunnels (v1 & 2)
Auto-Detect IP Address
Manual IP Address

Manual DNS Settings
License Key Input Mechanism
Message Waiting Indicator
Received Calls
Dialed Calls
Missed Calls
Last Caller-ID