EnvisionAide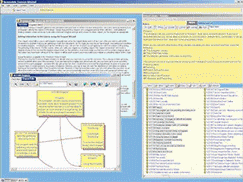 EnvisionAide is for consultants, academics, and industry professionals - people who gather information, think creatively, and then communicate on the sound practical application of their specialized knowledge.
This tool can help you gather text and images, edit and annotate, organise and record. If you work to deadlines, EnvisionAide can boost your creativity and productivity when you need it most. If you use a portable PC this is an indispensible tool when working away from your desk. It can also help you make clear well-focused reports which help your fellow team members work together.
It can be used as a browser companion, and has a compact appearance when used in this mode.
EnvisionAide can be used to develop your ideas and draw on the further expertise you have gathered by research. A single point of view can make it hard to take a completely fresh look at a problem. EnvisionAide can help you make a breakthrough by combining the differing points of view you discover, so synthesizing a solution quickly. For use in this mode, it can be expanded into a multi-document interface.
Creative people will find EnvisionAide fun and satisfying to use. With it, you can rapidly create free-form diagrams connecting snippets of information you have gathered. The snippets are compiled, with associated media references, into a snippet library where search and select functionality allows you to investigate the concepts and obtain reports on sub-sets of associated snippets. You can use EnvisionAide's text analysis features to find new associations between snippets - (associations not 'in the box'). So you can import text from well-known mind-mapping software and see what structure EnvisionAide would apply. Use EnvisionAide's special 3D visualisation tool to visualise these new points of view, and consider the automatically generated questions - designed to spark new ideas.
EnvisionAide is well suited for use in market research, strategic management and qualitative problem solving, because EnvisionAide helps you see things from a fresh point of view. EnvisionAide is the fully integrated research tool you need to optimise your productivity and creativity. You can publish reports as a document or as a fully indexed and cross-referenced web-site. It can help you save time and add 'star quality' to your output, so that you get the full credit you deserve.




Software Information
System Requirements
Version:
4.0

Windows 9x/Me/NT/2000/XP
Pentium or AMD processor
256 MB RAM

File Size:
3.42 MB
License:
Free to try, $49.00 to buy
Screenshot:
View Screenshot
Rating:
EnvisionAide helps with:
Gathering text from browsers and editors into its snippet library;
Diagrammatically structuring visual and textual evidence;
Finding hidden links with automatic text cross-linking and indexing;
Analysing evidence using search and selection criteria;
Summarising and innovating with a 3D knowledge visualisation tool;
Project reporting, and project web-site publishing.