Effect3D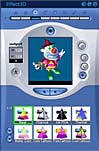 Effect3D is a powerful editing tool that lets you create professional looking 3D objects, add animation, and use a wide range of 3D effects. Effect3D's Power Wizard does the work for you, so whether you're a novice or a Webmaster you'll be producing stunning artwork in minutes.
If you're running short of ideas, browse Effect3D's 3D-Magic archive where you're guaranteed to find inspiration-and the right image! Over 500 models are cleverly categorized for easy browsing and with over 70 behavioral Bio-Morph animation's to choose from; Effect3D gives you the freedom to create uncompromising images limited only by your imagination!
Using the most advanced animation technology, Free-Form Deformation (FFD) Effect3D can make 3D models bow, dance, or even do the hula-hula! Effect3D can also create dynamic 3D models by RTS animation so models can move back-and-forth, float, or rotate. Just let the Smart Wizard walk you through the easy-to-follow process of applying the animation you want, and watch as Effect3D transforms models into lifelike interactive clipart.
The Effect3D package also includes a huge bonus archive of over 500 3D models organized into categories such as, Computer, Consumer Electronics, People, Signs & Symbols, Crafts, and Sport. Unlike conventional clipart libraries, all the objects in the 3D Magic Archive are specially designed for use in Web design, presentations, or even printed documents. Moreover, the archive can be browsed in preview mode for easy selection, and once you've found what you want, you can apply thousands of special effects to the model.

Download Trial 12.25 MB
Software Information
System Requirements
Version:
1.1

Windows 8/7/XP/Vista
Pentium II 233 MHz
64 MB RAM
50 MB disk space

License:
Free to try
Rating :
Key Features of Effect3D:
Huge 3D model archive with over 500 objects
Cleverly categorized archive for easy browsing
Intuitive wizard-style interface
Simple 8 step process to create professional looking graphics
Over 70 behavioral animation's
Animation preview window
22 Style Effects
Adjustable stage lighting
Save effect parameters in projects to reuse your creativity
Ability to import models in the 3DS format
Small files using expert compression options
Alter brightness & contrast
Controllable hue, saturation and value parameters
Anti-aliasing option for smoother images
Real cast shadow and drop shadow options
Standard & Custom animation's
Flexible Output options include: Animated GIF; BMP; JPG; GIF
Benefits
Animate your 2D and 3D images in full 3D
Over 70 behavioral animation's
Hundreds of NPR and PR rendering effects
Intuitive wizard-style interface
Bio-morph character animation engine
Small files using expert compression options
Output compatible with all major packages
Applications
Presentations Effect3D adds a cutting edge professional look to your presentations. Effect3D's MagicObject library offers a wide array of 3D images to choose from that fit into any style of presentation.
Creative SignatureCreate dynamic signatures for your e-mail with a custom made 2D or 3D object. Attach images to your e-mail to share with your family, friends, and co-workers.
Photo-Editing Surprise friends and family with your own custom greeting card using your 2D images and MagicObjects from Effect3D. Effect3D's MagicObject library has 3D images for all holidays and special occasions. Reallusion.com also offers special updates to your MagicObject library for each holiday.
Home Publishing Use MagicObjects to quickly add effective dimension to flyers, calendars, posters or personal web sites. Effect3D works cooperatively with all home desktop publishing software. Simply use Effect3D to achieve the desired look for your image and export it into a format that is suitable to your project.