Effect3D Studio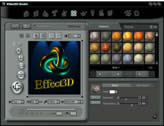 Effect3D Studio provides designers of all levels the ability to create professional looking 3D animated graphics. A real-time 3D preview window provides a WYSIWYG editing environment to see your project develop. To add effects to your project, drag-and-drop from the hundreds of backgrounds, 3D objects, rendering effects, material settings, lighting and animation effects available from the content galleries, plus manually adjust various settings & parameters to achieve your desired effect.
Effect3D Studio includes a gallery of over 700 high quality 3D objects cleverly categorized for easy browsing. A 3D Text tool allows you to create your own 3D objects just by typing in text! or you can use the import 3D object function to import any 3D object created in the popular 3DS format. All together this provides you with an unlimited 3D resource for your projects.
Effect3D Studio allows you to use your own photo collection or graphics in your projects. You can use these images as the background to a project enabling you to add static or animated 3D objects, shapes, characters and text or you can import the images themselves as a 3D object enabling you to animate the image itself.
Effect3D Studio uses the most advanced animation technology to bring your project to life, using a combination of FFD (free-form deformation), RTS (rotate, transform, scale), and animated lighting can make your 3D objects bow, dance, or even do the hula-hula! Some 3D objects in the gallery also include embedded animation's designed specifically for a particular object.

Download Trial 12.38 MB
Software Information
System Requirements
Version:
1.1

Windows 8/7/XP/Vista
Pentium II 233 MHz
512 MB RAM
50 MB disk space

License:
Free to try
Screenshot:
View Screenshot
Rating :
Key Features of Effect3D Studio :
General

Simple 8 step process to create professional looking graphics
Navigation bar to quickly switch between creation stages
Intuitive graphical user interface
Cleverly categorized archive for easy browsing
Real-time 3D preview window
3D Object polygon count indicator
Move, Rotate, Zoom Camera controls to adjust scene appearance
Preset camera views - free, front, left, right, top, & bottom
Camera lens adjustment to alter depth perspective
Full screen preview
Incremental editing, allowing the addition of many 3D objects in one scene, by applying to background

3D Objects
Over 700 high quality 3D objects
Ability to import 3DS format objects
Cleverly categorized object gallery with thumbnails
Add your own objects and categories to the gallery
Import 2D images with 3D photo frames
Crop imported images with transparency mask function
Advanced object transformation

Materials/Effects
24 Photo-realistic and Non-Photo realistic rendering style effects, complete with extended effect parameters
Large gallery of material settings
Define and save your own material settings
Save material/effect parameters in projects
Anti-aliasing option for smoother images
Background & object color adjustment
Object transparency setting
Transparency mask
Texture/Bump mapping
Blend color and texture effects
Map scale, tiling, and offset adjustments
Diffuse, specular, glossiness, absolute glossiness parameters
Brightness & Contrast parameters
Hue & Saturation parameters
Drop shadow effect
Glow effect

Lighting
Adjustable stage lighting
Large gallery of useful preset lighting conditions designed to cast light evenly throughout scene
Save & categorize your own lighting conditions
4 individually controllable light sources
Adjustable light source position
Individual light color assignment
Light position/color indicator to assist in fine tuning
Cast shadow and drop shadow options
Real cast shadow from each light source
Selectable shadow color, blur & opacity

Animation
Animation Gallery with over 70 categorized animation's
Custom animation
Biomorph animation
Animated lighting effects
Animation thumbnail preview
Adjustable tempo (ease-in/out, smooth)
Adjustable animation strength
Adjustable frame rate, number of frames and animation duration
Animation control bar with; Play, Pause, Stop, Next frame, Previous frame

Export
Flexible output options including: Animated GIF; Static GIF; BMP; BMP Sequence; JPG; JPG Sequence; PRJ ; SCX
Small files using expert compression options
Estimate file size prior to export
Color depth selection
Output can include single frame, range or all frames
Normal or progressive output
Copy to Microsoft Clipboard
Save current frame
Output size upto 800x600 pixels
Full Screen Preview
Background transparency, color transparency
Output Crop function

Web Effect Composer
Create JavaScript web effects without any knowledge of programming
Use images created in Effect3D Studio
Interactive mouse effects including: mouseover, mousemove & mouseclick
Artistic effects including: change image, shake image, glow, blur, alpha, wave
Flying objects
Image/photo slide show with transition effects and autoplay
Output preview
Save as HTML file
Copy and Paste into existing HTML page

Animation Composer
Create new animation sequences by connecting and blending several clips
Preview new animation clip before rendering
Fade from one animation clip to another
Select only a portion of the imported animation sequence
Change animation tempo with frame rate adjustment
Loop output
Benefits
Real-time 3D WYSIWYG editing environment.
Over 700 high quality 3D objects.
Import 2D photos & graphics or 3DS format objects.
Create 3D text objects.
24 Photo-realistic and Non-Photo realistic rendering style effects.
Hundreds of adjustable rendering style, material, lighting, animation, image processing parameters.
Animation gallery with over 70 categorized animation's.
Flexible output options with wide range of supported file formats.
Applications
Add animated or static 3D objects, shapes, characters and text to your own digital photo collection
Animate your own digital photos or graphics in full 3D
Add professional looking 3D graphics to your presentations.
Create a custom dynamic signatures for your e-mail
Create interactive effects for your website
Add a slideshow to your website
Compose new animation's