Easy Notes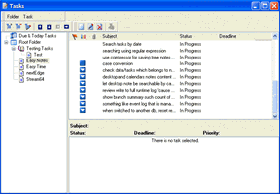 In today information age, when everyone works with signification amount information, there's growing call for tools enabling their users to store information handy and yet with comfort. Easy Notes are unique tool that addresses these demands. Easy Notes make the way to easily and effectively manage your notes in e-form. An intuitive friendly environment lets you to concentrate on work, while it also features many options to configure this tool to exactly match with your needs as much as possible.
Easy Notes target three main areas: Note Tree (a technology to store your notes in the tree structure and to have them hierarchically sorted), paper sticky notes replacement and calendar replacement. Features (so much highlighted at other tools) like rich text formatting, templates, printing, import & export, searching, auto-run, hyperlinks, always-stay-on-top, OLE, etc. are matter of course here. Moreover, each sticky note can be rolled into a floating bar and there's bin to store these notes until you permanently remove them.
In addition, Easy Notes provide tasks to manage your activities. Almost all features available to notes are available to tasks too. All tasks are hierarchically sorted in the tree and there's a view into a selectable piece of future. While the interface is easy to understand and only a minimum of inputs is required, you can still have a perfect track of your activities.




Software Information
System Requirements
Version:
4.01

Windows 8/7/XP/Vista
Pentium or similar processor
64MB RAM

File Size:
2.04 MB
License:
Free to try, $19.95 to buy
Screenshot:
View Screenshot
Rating:
Easy Notes Features:
General
Intuitive & friendly interface.
Four kinds of documents: sticky notes, calendar, note tree and tasks.
Bin holding deleted sticky notes until permanently removed.
Simultaneous editing of any number of documents.
Searching for text in any kind of document.
Tasks and note tree use tree structures to keep documents hierarchically sorted.
Trees support flexible work via drag & drop actions.
Ability to use MS Office filters for import and export.
By default minimized to tray icon all the time to save your working space.
Printing.
Use of transaction-enabled database to avoid data loss due to unfinished writes.
Install and uninstall functions.
Text Bodies of Documents.
Rich Text Format.
Paragraph formatting.
Bullets and numbering.
Replacing with content from a file.
Search and replace.
URL support including automatic detection of typed URLs.
Clipboard including Paste Special.
Undo & Redo.
Optional pasting of HTML source URL.
Pasting of pure text to loose unwanted formatting.
Templates to define default content and formatting.
Calendar
Can be "pinned" onto the desktop to always stay above other windows.
One note per one day.
View over entire month and several surrounding days with indication of noted days.
Caption showing selected day with custom formatting.
Tasks
Possible to automatically show up listing of due & today tasks, if any, on startup.
Subject, priority, status, deadline, flag, links, and text body as properties of each task.
Possible to sort view on tasks of selected folder by kind of task property.
Special folder to view due & today tasks.
Special folder to view tasks based on their deadlines.
Tasks are organized in folders kept in tree structure.
Possibility to insert OLE objects into tasks' text body.
Pictures can be inserted via OLE.
Possible to insert links to files as OLE objects.
Inserting of symbols and date/time.
Date/time insert dialog offers system formatting and your own.
Print preview.