WIDI Recognition System Professional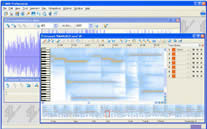 WIDI Recognition System is a polyphonic Audio to MIDI converter (MP3 to MIDI, WAVE to MIDI) with extended options. The main function of the program is to convert audio to MIDI, and then to help with quick and efficient rearrangement of the converted file. The program converts CD tracks, MP3 and Wave files and automatically produces polyphonic MIDI files in seconds. In addition, WIDI Recognition System is capable of converting music on the fly, as you sing or play a musical instrument. WIDI's innovative recognition algorithms guarantee the better conversion quality ever available. WIDI is designed for retrieving music notation from MP3 files, creating ringtones for cell phones, practicing or teaching music.

WIDI Recognition System Professional contains interactive TrueTone Editor, which is absent in WIDI Standard, TrueTone Editor is a special MIDI files editor, included in the WIDI Professional version. It allows you to quickly and effectively correct the results of the automatic recognition.

The new Editor also features time-saving functions such as Multiple Selection, so the attributes of a group of notes can be adjusted all at once, and Note Map, for fast navigation. WIDI 3.2 supports Recognition Presets for different types of music, predefined or created by user. WIDI is now able to work with stereo-recordings - to display them and also recognize channels individually and in various combinations. New Recognition Wizard will help you to get your first results just in a few moments after the initial start-up, and familiarizes you with the program at the same time. Whether you are an amateur or a professional, WIDI Recognition System will help you a great deal.




Software Information
System Requirements
Version:
3.3

Windows 8/7/XP/Vista
Pentium II CPU
64 MB RAM

File Size:
2.88 MB
License:
Free to try, $229.00 USD to buy
Screenshot:
View Screenshot
Rating :
WIDI Recognition System Features:
Source
Polyphonic and monophonic MP3, WAVE and CD Audio files.
Realtime input from sound card.
Compressed WAVE files are supported.
Some other formats (AIFF/AIFF-C, NeXT/Sun .snd/.au, Berkeley/IRCAM/CARL Sound File) are supported with Audio File Library.


Main recognition features
Recognition algorithm fine-tunes automatically to the key of the source file.
Choose among several recognition algorithms, including special algorithms for monophonic recognition.
Eliminate wrong notes automatically with a simple harmonic model.
Reach "out of this world" recognition quality with a great number of tuning settings.
Recognition settings can be saved to a file for repeated use.
A set of recognition settings for a number of typical situations has been compiled.
Select any pitch to transcribe you like.
The capability of recognizing separate stereo-recording channels and combinations of these channels exists.


Editing features
Recognize any part of the record you want. Effectively improve the recognition quality in the interactive mode with our outstanding TrueTone Editor™ technology in the Professional version. The Editor lets you substantially improve the readability of musical notation, as a result of its ability to arrange bar-lines without altering the sound.


Realtime
Recognize notes on-the-fly, managing your MIDI synthesizer directly with our Realtime Conversion module.


Output
Produce multi-track volume differentiated MIDI files. Choose among the massive array of instruments to use in the output MIDI file.


Additional Features
Record a new wave from the microphone or other source using our Wave Recorder. Tune the relative volume of notes in various ranges with our built-in Equalizer. Playback all supported audio formats.
RELATED SOFTWARE DOWNLOADS FOR WIDI RECOGNITION SYSTEM PROFESSIONAL