ViPNet Safe Disk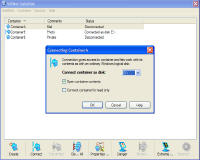 ViPNet Safe Disk software solution is an information security system, providing safe confidential information storage and a convenient way of managing it.
ViPNet Safe Disk is an easy-to-use, user-friendly software which provides transparent "on-the-fly" encryption for notebook or desktop personal computer. Safe Disk protects user sensitive data from kinds of e-dangers such as computer viruses, information theft or computer hijacking. ViPNet Safe Disk is outstanding encryption solution and comparing to competitors, it does not have limits a number of volumes/a size of secure data.
In the working process the system is creating files so-called "containers", whose size is specified by user; the files are displayed as logic disks. Password authentification is performed once on the entire volume. Once access has been granted to the volume, users can create, read, write, drag, drop and copy files to the volume just as if it were another hard drive. Best of all, since Safe Disk appears to Windows as another drive letter, it is instantly compatible with almost any standard business application, word processor, spreadsheet or database program. All information that the user stores on the disks is kept encrypted. When read, the information automatically is being decrypted, when saved-encrypted. This process is completely transparent for a PC user.




Software Information
System Requirements
Version:
3.02

Windows 98SE/ME/2000/XP/2003/Vista
Internet Explorer 4.0 or higher
Pentium II 233 or higher
128 MB of RAM
20 Mb free space

File Size:
5.83 MB
Screenshot :
View Screenshot
License:
Free to try, $38.68 to buy
Rating :
Key Features for ViPNet Safe Disk:
ViPNet Safe Disk utilizes AES and GOST encryption algorithms with a key length - 256 bits;
Fair-sized container creation is limited only by the File System capacity;
Danger mode for containers urgent disconnection and Safe Disk program emergency quitting;
Extreme Danger mode for containers destruction with no possibility to restore their contents;
Automatic disconnection of containers after specified period of user inactivity;
Automatic disconnection of containers after logout from ViPNet Safe Disk;
Possibility to connect containers for read only;
Automatic connection of selected containers after logon to ViPNet Safe Disk;
One of the three protection types can be used to access to container: password protection, protection keys storage in a special Key file, Tokens;
The system is invisible for a PC user: while non-activated, the system cannot be seen (only connected device of data storage (Reader, for example) can show presence of the system);
When requested for real password, use the one for "under control" mode. The password of the given mode allows to conceal the presence of any confidential information when concealing the presence of the very system is impossible;
In case of hard disk corruption, operating system reinstallation, or computer viruses attack, the access to the sensitive data can be restored by means of Safe Disk program with no risk for the data safety;
Safe Disk's Configuration Recovery feature allows rolling back to the moment when undesirable changes to sensitive data have not been made;
Wiping utility supplied with ViPNet Safe Disk reliably erases sensitive data from user's computer leaving malefactor no chance to restore it even if the data was deleted by means of the standard operating system tools (not by means of the Safe Disk program);
Data transportation from one PC to another is safe and secure with ViPNet Safe Disk: it is accomplished with container export and then import from export file;
Multi user working with a program is supported;
Event log is kept to track user actions;
Program's interface is comprehensible and smart - it excludes the possibility of destructive actions from a beginner user.
RELATED SOFTWARE DOWNLOADS FOR VIPNET SAFE DISK