Vextractor
convert raster images into vector formats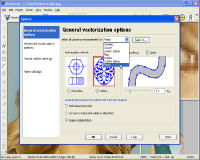 Vextractor is a professional vectorizer software for convert raster images into vector formats by building centerlines and outlines.
Vextractor converts drawings, maps and other images, including photo, logos, black-and-white illustrations from raster to vector format. The program can save converted raster images to the following vector formats: DXF, WMF, EMF, EPS, AI or SVG. Files of these vector formats can be imported to popular vector graphics applications like AutoCAD, Corel Draw, Adobe Illustrator, and many others. For the purpose of supporting GIS applications, the program allows saving images to the ArcInfo Shape and MapInfo MID/MIF formats. This software is a perfect replacement for the traditional tracing and digitizing. It can save lots of your time, for it is much quicker to use this program rather than do the tracing by hand or using a digitizer.




Software Information
System Requirements
Version:
3.94.

Windows 98/Me/NT/2000/XP/2003/Vista
Pentium II CPU
256 MB of RAM

License:
Free to try, $99.00 to buy
File Size:
3.22 MB
Screenshot :
View Screenshot
Rating :
Main Features of Vextractor (raster to vector conversion):
The program supports a multitude of raster graphic file formats, including BMP, GIF, TIFF/GEOTIFF, JPEG, PNG, PCX, TGA, WBMP, PPM, PBM, PGM.
Vextractor supports the following vector formats:

AutoCAD DXF and DXB
Windows Metafiles WMF and EMF
ArcView Shapefiles (SHP)
MapInfo MIF/MID
ASCII XYZ simple text format
Scalable Vector Graphic (SVG)
Encapsulated PostScript (EPS)
Adobe Illustrator (AI)

Now Vextractor have advanced algorithm for photo and photorealistic image vectorization.
For design drawings the program applies recognition of various graphic elements of the image: circles, arcs, orthogonal lines, etc. Here, the program offers an opportunity to create a uniform grid, which can be put on the elements of your vectorized object.
Vextractor contains a built-in advanced vector graphic editor, which easily allows you to add some corrections to your built vectors.
Vextractor can be used for cartographic information recognition. The program supports such popular GIS formats as ESRI ArcView Shape and MapInfo MID/MIF. In order to uphold the highest standards in cartographic information processing, the program offers a coordinate binding system with an option, which allows users to save data binding coefficients to the format of GeoTIFF and world-files of ESRI ArcInfo system.
Vextractor contains features, which are first of all intended for CAD and GIS systems: an opportunity to set your own coordinate system for vector images and an opportunity to specify a desirable size of a chosen image (width and height). Also you can assign Z-values (elevation) for polylines.
Apart from that, the program is ready to help you with artistic and design work. Vextractor builds geometrics of raster images, which consist of Bezier splines. The program supports a series of vector formats, which can be imported into all popular packages of vector graphics: Encapsulated Post Script (EPS), Scalable Vector Graphic (SVG), Windows Metafile (WMF/EMF).
The program contains a variety of additional features, such as a support for TWAIN32-compatible devices, an original three-window interface and more.
Vextractor runs under all versions of 32bit Windows: Win98/Me/NT/2000/XP/2003/Vista.
Advanced Features for Vextractor:
The program has all tools necessary for viewing images: scaling, scrolling, and color selection. Vextractor features: TWAIN support for importing images from any scanner; automatic recognition of orthogonal lines, arcs, and circles; saving the original drawing's scale. Vextractor can convert halftone and color images to black-and-white images for further recognition; it can rotate and change the orientation of raster images.
Vextractor has a built-in vector editor, which can be used for the editing of vectorization results. The program can create curves using Bezier splines, which allow obtaining images smoother than the original raster. By picking specific optimal parameters, you can obtain an image of curves, which look greater than the original image.
The program also can be used for the digitizing of function graphs to be used in MS Excel and other mathematical applications. The special text format ASCII XYZ with a very simple structure is provided for importing to such applications.
GIS professionals can use Vextractor's functions for digitizing hardcopy maps. The vectorizer supports such GIS formats as ArcInfo shape files and MapInfo MID/MIF. Specially for GIS users, the program has the capability of georeferencing raster images by points with known coordinates. The referencing via GeoTIFF and ArcInfo/ArcView World-files is also supported.
RELATED SOFTWARE DOWNLOADS FOR VEXTRACTOR