UltraMixer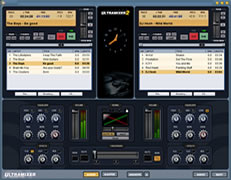 UltraMixer is a DJ-Mixing-Software which enables you to mix digital music in various formats such as MP3, WMA, OGG, WAV or CDs in real time. All you need is a sound card. The DJ's turntables are replaced by two digital SoundPlayers, the "vinyls" are available within seconds through the integrated FileArchive. No matter whether you want to use UltraMixer for a professional gig or at a private party or as virtual jukebox in restaurants, hair studios or medical surgeries - it will prove the right choice!

UltraMixer is the first DJ software in the world, that is available for the most popular operating systems Windows, Linux and Mac OS X.
There are three versions of UltraMixer available. All versions are integrated in one program, and can be activated through the appropriate licence keys. This enables the user to switch to a more advanced version without any problems.



Buy Basic Edition for Win $109.00 USD
Software Information
System Requirements
Version:
2.11

Win 98, ME, NT, 2000, XP, 2003, Vista
256 MB RAM
Intel Pentium III (1GHz+) / AMD 1GHz+
Java JRE 1.5, soundcard

License:
Free to try, $109.00 to buy
Screenshot:
View Screenshot
Rating :

UltraMixer Advanced Edition:

UltraMixer Advanced contains more functions than UltraMixer Basic and comes with an upgraded user interface. Beginners will get used to this version very soon. UltraMixer Advanced suits professional users, who are already experienced in the world of digital mixing, and who don't want to miss a lot of useful features. Those are some of the functions UltraMixer Advanced offers: Realtime Effects, support of various formats, Loop-In / Loop-Out function, MidiController (Hercules DJ Console, Behringer BCD2000) support and much more. The purchase of a licence for UltraMixer Advanced authorizes individual persons and organisations for private, public and commercial use of this software.


UltraMixer - Basic Edition:

Experience the world of digital mixing! UltraMixer Basic offers a clearly structured user interface and is easy to handle. That's what makes it a good choice for mixing beginners and such users who want to mix music without gaining professional background knowledge. The Basic version supports many different formats like MP3, WMA, OGG and WAV. In addition, it contains all basic functions a DJ needs. Thanks to the integrated AutoMix Function the DJ may also take a break while the music is playing. The purchase of a licence for UltraMixer Basic authorizes private persons and non-profit organisations for non-commercial and non-public use of this software.


UltraMixer Free Edition:

UltraMixer Free gives private users a first insight into the world of digital mixing. Whether you want to use UltraMixer at home or at parties - UltraMixer Free contains all basic functions a virtual DJ needs. The intuitive and clearly structured user interface enables you to use the software right away, and supports you on your way to the new Star DJ. The use of UltraMixer Free is permitted for private users only. UltraMixer Free contains a splash screen, that appears every time you start the program. You can dispose of this screen by purchasing a licence.



Features Comparison :


| | | | |
| --- | --- | --- | --- |
| Features Comparison | Free Editon | Basic Editon | Advanced Editon |
| Preferred email support | No | Yes | Yes |
| No 20 seconds splash screen on startup | No | Yes | Yes |
| Master tempo (time stretching) | No | No | Yes |
| Realtime effects (Flanger, Resonance, CutOff) | No | No | Yes |
| ASIO support (multi channel soundcards) | No | No | Yes |
| Extended user interface | No | No | Yes |
| Loop-In and Loop-Out | No | No | Yes |
| Normalisation of music titles (Replay Gain) | No | No | Yes |
| Support of hardware controllers(Hercules DJ Console / Mk2 / DJ Control MP3, Behringer BCD2000) | No | No | Yes |
| Master Volume / Master Gain | No | No | Yes |
| 31 Band Master Equalizer | No | No | Yes |
| Fullscreen and tray mode | Yes | Yes | Yes |
| MiniMode Player | Yes | Yes | Yes |
| variable pitch range (up to -/+ 50%) | Yes | Yes | Yes |
| Reverse Play | Yes | Yes | Yes |
| Database-driven file archive | Yes | Yes | Yes |
| BPM Counter | Yes | Yes | Yes |
| Support of skinning for the user interface | Yes | Yes | Yes |
| Cue points | Yes | Yes | Yes |
| MP3 artist pictures | Yes | Yes | Yes |
| 3 Band Equalizer / EQ-Kill-Buttons | Yes | Yes | Yes |
| Import / Export of M3U lists | Yes | Yes | Yes |
| FileArchive detail search | Yes | Yes | Yes |
| manual Talkover | Yes | Yes | Yes |
| Monitoring over headhones | Yes | Yes | Yes |
| Multi-soundcard support | Yes | Yes | Yes |
| Automix function; | Yes | Yes | Yes |
| Switchable fading modes | Yes | Yes | Yes |
| Custom fading mode | Yes | Yes | Yes |
| KeyMapping (basic functions) | Yes | Yes | Yes |