UltraKeyboard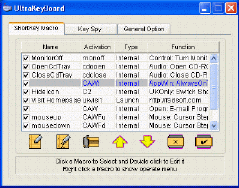 Let you invent new functions to your keyboard, it also has over 70 useful internal functions, plus a keystroke log tool - key spy.
UltraKeyboard is a keyboard shortcuts, hotkey, keylogger, and macro-based keyboard software that designed for Win-9x, Windows Me, Windows NT, Windows 2000 and Windows XP.

UltraKeyboard lets you make better use of keyboard by defining and launching keyboard shortcuts, hotkey or keyboard Macro so as to simplify the manipulation. UltraKeyboard also includes a useful tool called KeySpy, it's a keylogger, which is used to record all the keyboard events including special keys such as hotkey and <Ctrl>, <Back Space>, <Caps Lock>, <Num Lock> etc. etc. (If you are seeking a tool to control the LED of Num Lock Caps Lock Scroll Lock, try Keyboard LED Control)



Buy Now $24.95 USD
Software Information
System Requirements
Version:
3.65

Windows 98/ME/NT/2000/XP/2003
Pentium II CPU
32M RAM

File Size:
595 KB
License:
Free to try, $24.95 to buy
Screenshot:
View Screenshot
Rating :
More about UltraKeyboard :
The trigger of the keyboard Macro/keyboard shortcuts in UltraKeyboard can be composed of common keys or hotkey or key-assemble. For example: "monoff", "cdopen", "CTRL+WIN+SHIFT+ALT+abc" all can be defined as the trigger of Macro, so it is flexible for macros' customization.
UltraKeyboard will accept all the key-press including the special keys such as hotkey, and etc.
Different Macros or keyboard shortcuts can use the same one trigger (hotkey or keystrokes), and this trigger (hotkey or keystrokes) will activate all the Macros. For example, if you define "monoff" as the trigger to turn the monitor off and computer beep, then after keying in "MONOFF", the monitor will be shut off and you will hear a computer beep.
The keylogger "KeySpy" can run in a hidden mode by hiding the systray icon of UltraKeyboard. The keylogger will save the date, time, and the keyboard to a file every appointed time.
100% VC++ code, tiny and integrate general keyboard software functions such as hot key and a useful keylogger, very low CPU-time occupancy. Windows-XP style when running under Windows-XP.
Any keystroke or keystrokes can be defined as the function of a Macro or keyboard shortcuts, and also the trigger of a macro or keyboard shortcuts.
Launch anything on your computer with just a hotkey or a few keystrokes.
UltraKeyboard has so many (over 70) useful internal functions to upgrade the common keyboard to a super intelligent one expediently.