Ultimate Encoder 2006
CDA/MP3/WMA/AVI//WMV Audio/Video encoder and decoder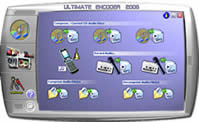 In a world where things get even more complicated which takes you more time from this short life, to learn to use computer programs or other things, we try to make our software products to be very easy to use in order to use less of your time. Now we offer you the most easy to use All-in-one Audio/Video Encoder & Decoder with built-in CD-Ripper, ULTIMATE ENCODER 2006 !

Ultimate Encoder 2006 is a high fidelity CDA/MP3/WMA/AVI//WMV Audio/Video encoder and decoder for Windows 2000, XP or higher, with integrated CD-Grabber, supports MP3 from 8Kbps to 320Kbps and WMA9 (Windows Media Audio V9) from 4Kbps to 768Kbps, 100KHz, 24-bit. With a cool user interface.

It takes as input Windows PCM .WAV files or CDAudio tracks, and encodes them to MP3 or WMA audio files which can be played with WinAmp or Media Player. It also has a built-in decoder which decodes the Audio MP3 or WMA files to Windows PCM Wav files. It supports Line-In/Microphone live recording directly to MP3 or WMA audio files.

Create MP3 RingTones for your mobile phone, convert .AVI / .MPG movies to Windows Media Video (WMV) for your PDA with Pocket PC 2003 or Windows Mobile 2005 operating system.

If you ever used a voice recorder with a VAS (Voice Activation System) feature you probably have noticed that the recorded sound cannot be understood because of too frequent start/stops in recording, so Ultimate Encoder uses a much more intelligent feature called iVAS (Intelligent Voice Activation System) in order to cut the silence when recording a voice conversation, this feature allows you to set a delay for each start / stop operation. This results in a very accurate voice recording, not affected by the background noise.

You also can encode .AVI, .MPG, .ASF files to WMV (Windows Media Audio V9) files or capture to WMV files from your TV capture device, webcam or screen capture.


Software Information
System Requirements
Version:
6.01

Windows 8/7/XP/Vista
Pentium®III 600MHz, 512 MB RAM
CD-ROM drive

License:
Free to try, $29.74 to buy
Screenshot:
View Screenshot
Buy Now:
Click to Buy
Rating :
Main Features of Ultimate Encoder 2006 :
Supports Encoding of 44KHz, 16bit Stereo/Mono WAV files, and Direct CD-Audio encoding, by reading RAW audio data from the CD-Audio, so you don't need a CD-Grabber anymore...
Ultimate Encoder is HDTV compatible, so you can use it to encode your HDTV movies at high resolutions.
Supports Encoding & Decoding MP3 with custom bitrates from 8Kbs to 320Kbs and CBR (Constant BitRate) or 3 methods of VBR (Variable BitRate).
Supports Encoding & Decoding WMA9 (Windows Media Audio V9) with custom bitrates from 4Kbs to 768Kbs, selectable CBR/VBR modes, and up to 100KHz, 24-bit and 7.1 channels.
MP3 Recorder with iVAS (Intellgent Voice Activation System) which allows you to record hours of conversation without recording the silence.
Supports many WMA audio/video codecs, including Windows Media 9, Windows Media 9 Professional, Windows Media Voice, etc.
CD Track names recognition through Internet FreeDB database featuring a local CDDB cache.
Ultimate Encoder delivers the highest quality possible supported by MPEG layer 3, we don't sacrifice the quality for speed as other encoders do.
It has an integrated CD-Grabber and a CD-Player. The CD-Grabber from Ultimate Encoder supports saving of Windows WAV files or automatically encode them to MP3 or WMA files.
Supports a wide range of CD-ROM drives, including YAMAHA, FUNAI, BTC, SONY, TOSHIBA, PIONEER, MITSUMI, PANASONIC, TEAC, SAMSUNG, etc. (IDE, E-IDE and SCSI).
Automatic rename of the output filenames to match the CD track names and automatic ID3tag information for MP3.
It is very easy to use by anyone.
Supports Grab Intro which creates sample MP3, WMA or WAV files from CD-Audio.
Now the CD-Audio to MP3 or WMA encoding is faster than ever with pre-read while encoding.
Convert video files from .AVI DivX, .MPG, .ASF to WMV9 (Windows Media Video V9).
Does not alter the audio frequencies like other encoders, that's why many Radio Stations and Recording Studio's choose Ultimate Encoder for hi-fi samples and tracks encoding.
You can even capture from your TV capture device, webcam or screen capture to WMV (Windows Media Video V9).
Create mobile phone RingTones from MP3 files, just select a folder with MP3 files and Ultimate Encoder will create for you a RingTone from each MP3 file with optimal encoding settings for mobile phones.
Create Windows Media Video files from .AVI / .MPG files for PDA's with Pocket PC 2003/2005 or Windows Mobile 2005.